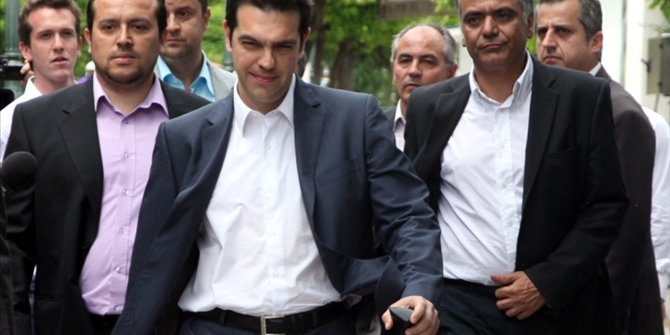 By Lefteris Yallouros – Athens
Main opposition SYRIZA party leader Alexis Tsipras met with the Chairman and representatives of the Union of Hellenic Chambers (UHC) on Tuesday.
The SYRIZA leader is holding a series of talks with social groups and representatives of the business world ahead of the Thessaloniki International Fair early next month.
Tsipras discussed his party's manifesto in the event SYRIZA comes to power with UHC Chairman Konstaninos Michalos. He assured the UHC delegation that a SYRIZA-led government would remedy mistakes in taxation laws as well as promote growth through a series of policies dealing with non performing loans, debt of businesses and households towards the state and the lowering of energy costs for industry.
The SYRIZA leader vowed to present a series of policy proposals before the government's negotiations with EU counterparts begins in the Autumn on debt relief. A national plan for the "reconstruction" of the country will be put together with social and business groups as well as political parties willing to cooperate in this direction, Tsipras said.
Ahead of the International Fair in Thessaloniki – that analysts predict could be the last before Greece's next election – SYRIZA is keen to appear ready to govern the country and negotiate better terms with EU counterparts on necessary reforms. The economy is a key area where Alexis Tsipras is eager to demonstrate he can rally his party behind coherent and effective policies that will drive Greeks out of a crippling recession.
Small and medium enterprises that have been heavily affected by the long recession will be targeted in SYRIZA's proposals in order for the party to secure their backing in the event of an early general election.
A series of issues – ranging from the national insurance system and liquidity issues to high energy costs and uninsured labor – were put forth by the Union of Hellenic Chambers in order for the two sides to reach an understanding on how a prospective SYRIZA government could respond to the demands of small and medium business owners in particular, amongst other professionals.