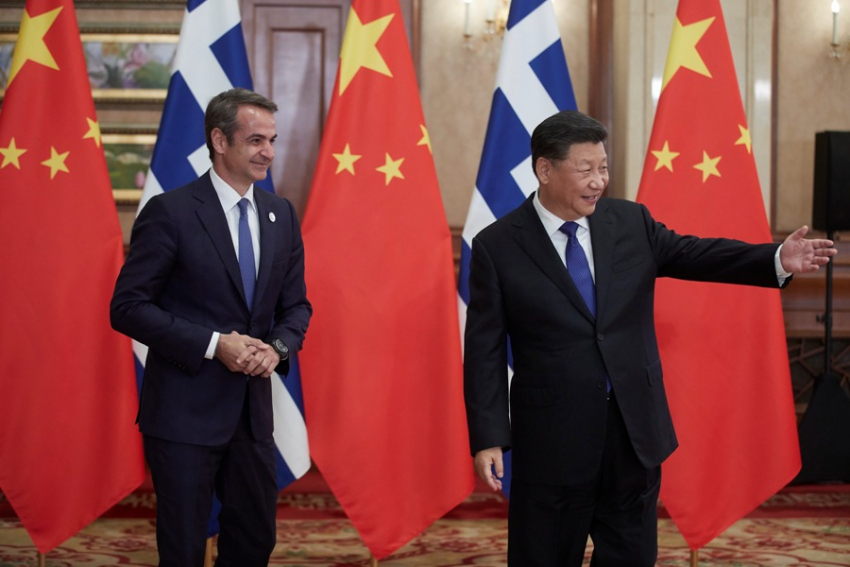 Greek Prime Minister Kyriakos Mitsotakis had a meeting with Chinese President Xi Jinping in Shanghai, where they reaffirmed the ties of friendship and cooperation that link the two countries and discussed areas in which such cooperation could be strengthened and expanded.
These include energy, transport, telecommunications, tourism, Greek agricultural products and the "possibility of Greece becoming a logistics center", as the Chinese president pointed out. He also suggested expanding co-operation and said that the establishment of a Greek-Chinese cultural year, which would be linked to tourism, would be feasible, while Kyriakos Mitsotakis made a proposal linking Greek shipbuilding in China with benefits to the Greek economy.
In his opening remarks, Mr Mitsotakis said: "You are right to point out that I chose, in just the fourth month as Prime Minister of Greece to come to China, to lead the Greek business mission for this very important exhibition, to signal in this way the special importance I attach to our bilateral relations … You have also made many references in your speeches to the proximity of our two cultures, a proximity that has been lost for centuries. But it does, I believe, signify, in a cultural context, the particular importance of this relationship".
He recalled that "it was my party, the New Democracy, which began politically our country's great economic opening to China. I am pleased that now, as Prime Minister of Greece, I am given the opportunity to be able to take this economic relationship – which we attach particular importance to – to a new level".
Mr. Mitsotakis also referred to his visit to COSCO's headquarters: "The opportunities that lie ahead of us are many and important. Before I met with you I had the opportunity to visit the COSCO headquarters, discuss with the President of the company and reaffirm our total commitment to this extremely important investment. What you need to keep from what is happening in Greece is that there is, today, a government that is committed to facilitating foreign investors, attracting foreign capital, and creating wealth and prosperity for all Greeks, and to do so – as you have many times stressed in your public interventions – in a sustainable way, in a way that respects the environment … We were committed to approving COSCO's master plan within two months, we did it, and now we are ready to launch this investment and for the port of Piraeus to enter a new phase of upgrading", Mitsotakis said.
Concluding, Xi Jinping said: "I am reluctantly stopping this discussion here, but fortunately we will continue it at dinner and in Athens in a few days". The official visit of the Chinese President to Greece will take place on November 10-12. For his part, the Chinese president called on Mr Mitsotakis to pay an official visit to Beijing.
Meeting with the Governor of the Bank of China
Shortly before his meeting with the President of China, Kyriakos Mitsotakis met with the Governor of the Bank of China, Liu Liange, which opens its first branch in Athens in November, to finance investments particularly in the green economy and energy.
Visit to COSCO
The prime minister visited the COSCO headquarters, where according to information by the Maximos Mansion headquarters, he was "greeted warmly by executives and employees".
Speaking to the company management, Mr. Mitsotakis said: "I visited you as the leader of the opposition in April (in Piraeus) and I told you that if the Greek people trusted us we would proceed with the approval of the master plan" … Indeed the Greek people at July 7 gave us the mandate to implement our financial plan. We are do nothing else than what we had committed to". For his part, COSCO chairman Xu Lirong thanked the prime minister for speedy the approval of the new investment plan, and the two men agreed that the two sides' common goal is to make Piraeus the first port in Europe.
In addition, the prime minister noted that with new infrastructure and new hotels the goal is now for Piraeus to become a world-class cruise center. At the same time, he welcomed the Chinese interest in supporting the shipbuilding activity in Perama and suggested that the Chinese side participate in the ambitious project of creating a museum of Underwater Antiquities in Piraeus.
Greek Foreign Minister Yiannis Plakiotakis, Deputy Foreign Minister for Investment Fragogiannis, Piraeus Mayor Yiannis Moralis and Attiki Regional Governor Giorgos Patoulis were also present at the meeting.
The COSCO administration gave a lunch to the Greek delegation. President Xu Lirong gave the tour of the headquarters to the prime minister, explaining how the company's information system works, which depicts the location of every ship around the world at any given time./ibna