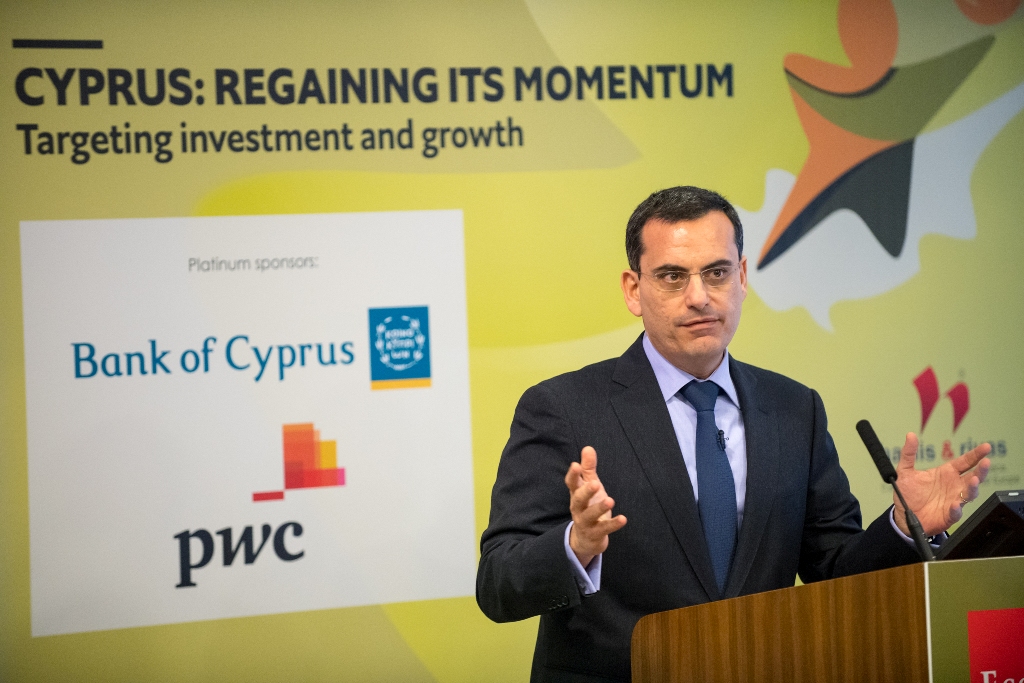 The high level of non-performing loans were identified as the main concern for the Cypriot economy as it is regaining its momentum during an event organised in London with the participation of all the major players involved with Cyprus's recovery.
The 'Cyprus: Regaining Momentum – Targeting Investment and Growth' event, organised bbby the Economist and held at the premises of the Londn Stock Exchange painted an overall very positive picture of the Cypriot economy.
Peter Bofinger, the German Economics Professor and member of the German Council of Economic Experts noted that Cyprus's recovery was faster in comparison to other economies in SE Europe because the Cypriot economy is more open.
Anthony De Lannoy, IMF Executive Director for Cyprus presented the stand-out factors of the country's recovery: the GDP growth, the achieved fiscal balance, the regained capital markets access, the credit ratings improvement and the restructuring of the banking sector.
As far as the main challenges are concerned, he was one of the many speakers that pointed to the high private debt and the non-performing loans (NPLs).
Servaas Deroose, of the European Commission spoke of a "remarkable turnaround" and a "vibrant momentum", but he added in the mix of challenges the need for enhanced productivity.
The Bank of Cyprus CEO Nick Fahy presented the work that his bank has done following the crisis and said that there is some more time needed to deal with the high NPLs. He also stressed the high compliance standards of the Cypriot banking sector.
Speaking on behalf of Moody's, Colin Ellis, the rating agency's chief credit officer for EMEA, said that we have a seen a very strong turnaround in Cyprus and expressed the view that the country faces no risk of default.
The last part of the conference examined the competitive advantages of Cyprus as an investment destination. Among the speakers were Natasa Pilides, Director General of CIPA and Evgenios Evgeniou, CEO of PwC Cyprus.
The EBRD Deputy Director Bojan Markovic said that the bank has already invested 270m euros in Cyprus over the last two years. He also mentioned that there are initiatives being prepared in order to assist European countries in dealing with NPLs./IBNA