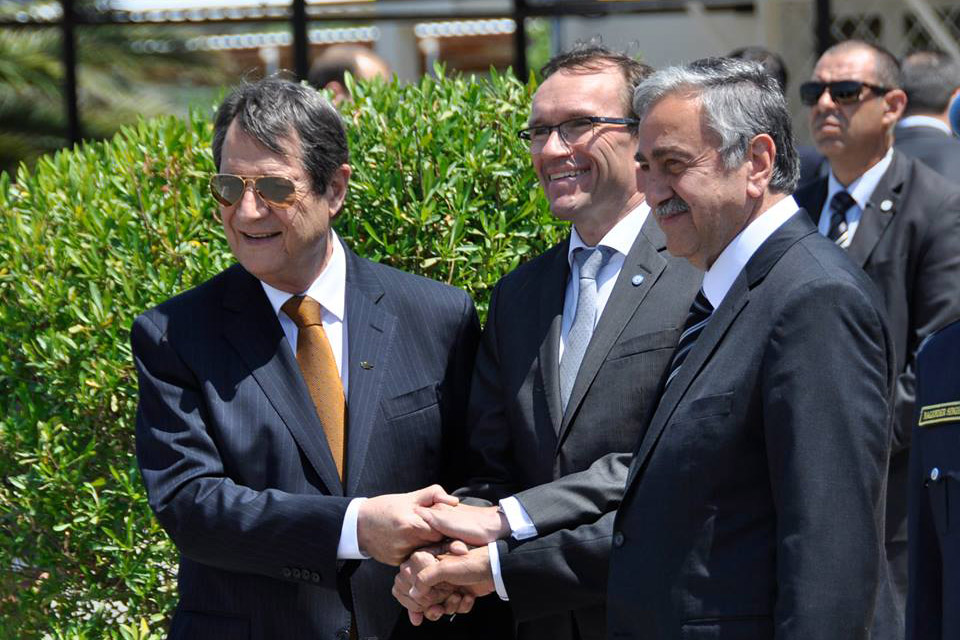 Nicosia, November 3, 2015/Independent Balkan News Agency
By Grigoris Savva – Evie Mitsidou Phillips/CNA
UN Secretary General`s Special Adviser on Cyprus Espen Barth Eide has reiterated his belief that a solution is "within reach" though hard work is still needed and has stressed that we need to think about the economics of the settlement and really reap all the opportunities which is not going to happen automatically.
Eide, who was addressing the Economist`s 11th Cyprus Summit in Nicosia, on Tuesday afternoon, despite refusing to go into the details of the negotiations, pointed out that "basically we know what it (the type of settlement) will look like but you need to prepare for because it could actually happen sooner than you think."
At the same time both Cyprus Chamber of Commerce and Industry (CCCI) President Phidias Pilides and Turkish Cypriot Chamber of Commerce President Fikri Toros reiterated their commitment to helping the reconciliation process along and asserted that a solution will not just be for the benefit of businessmen but of Cypriots as a whole.
Replying to a question on the role of outsiders in Cyprus and that if they press too hard it is counterproductive, Eide said that "we need to be acutely aware of that." He reiterated that the ongoing Cyprus reunification process is leader-led. It is done in Cyprus not in some chateau in Switzerland, he pointed out.
I often hear about the UN bringing to the table bridging ideas he said, adding that "I don`t have to because this is very well done."
Replying to a question about the tax policies he spoke of the need to have an effective government which as he added doesn`t have to necessarily be big.
He also expressed his conviction that "over time the solution will pay for itself". In the long run, he noted, there will be more growth and more money to distribute, adding that "we need to prepare for potential growth."
The UN official stressed the need for the federal state to have a business friendly climate, modern institutions, competitive, strong, flexible, adaptable and ready to foster innovation. A high degree of adaptability is needed, he said.
"I think it is well understood that we do not lose sight of these issues as we look to solve the political aspects," he added.
On his part, Pelides pointed out that a just functional and viable solution will generate huge benefits in areas such as tourism, shipping, construction, real estate and agriculture, while the importance of Cyprus as an international business centre will increase even further through the significant improvement of the investment climate and the increased attraction of substantial foreign investments, while allowing Cyprus to reach out to presently unexploited markets across the world, including of course the vast Turkish market.
"We have no other option but to solve the Cyprus problem in a just, functional and sustainable manner," he said, noting "the alternative will be to the detriment of both communities on the island but also the wider area in the region encompassing Greece and Turkey."
He fended off views that the solution would entail economic burden heavily and unequally the two communities, underlying "we view the cash outlay that will be required for the implementation of a solution as by far the most worthwhile and rewarding investment that our people will ever make."
During his address Toros called on the two leaders to "demonstrate true, courageous leadership" and to solve matters such as the interconnection of the mobile phone networks. We need to make this vision reachable he said and expressed his concerns over the "risks and consequences of yet another failed attempt."
Referring to the work done so far by the two chambers to promote the prospects of a settlement, erode the status quo, normalise and improve every day living conditions he said that among others the two chambers have produced a couple of documentaries, they have launched bicommunal internship progammes and startup projects.
"Our future lies in peace and cannot be risked on the continuation of divisive moves hence our determination to grow communal ties", he said. Toros also spoke of the need for the timely involvement of the private sector.
Earlier on Dirk Reinermann of the World Bank said that Cyprus this year is among the top ten improvers in the world, and not just in the top ten but number four and he congratulated the government of Cyprus for doing that as it "sends messages to international markets." However, he also gave bad news about labour productivity and low efficiency in public sector spending where Cyprus is lagging behind its EU counterparts. He finished on a note of optimism saying that if Cyprus were to rebrand itself from a divided country to a reunited one which would "against the stream at a time of disintegration and division, this would send a very strong message to investors."
On her part Miriam Sapiro former US trade representative and now of the Brookings Institution spoke of her experience in the settlement process in Bosnia and highlighted the fact that "there is no perfect solution because negotiated settlement involves compromise." In the event of a solution she expressed the point of view that the economic benefits for Cyprus could be quite significant for both sides and also spoke of the efforts for a Transantantic Trade and Investment Partnership (TTIP) between the EU and the US noting that it would be particularly beneficial for small countries.
Source: CNA