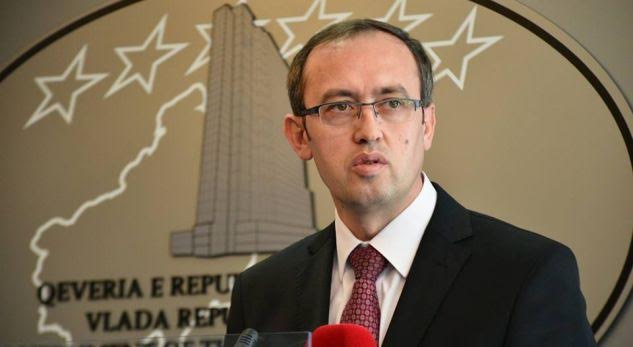 During the past two years, Kosovo's economic situation has become stable and the state budget has increased by two billion euros.
This was declared by the minister of Finance, Avdullah Hoti, who talked about the government's achievements today, at a time when the opposition is demanding fresh parliamentary elections.
According to him, during this period, Kosovo has managed to bring its economic performance back on track.
"Thanks to its economic growth, this year, Kosovo will come out of the group of undeveloped countries and will be in the group of developing countries with average incomes", minister Hoti said.
Hoti has ranked some of the economic achievements of this government during this period:
Economic growth at a rate of more than 4% during these two years has led Kosovo to a long-term and sustainable economic growth. This economic growth which has the potential to reach 6-7% depending on the progress in several major projects and institutional reforms.
Business environment is constantly being improved. The World Bank Report on the business environment ranks Kosovo among the first countries in terms of starting up a business. In 2016, tax payment procedures have been significantly improved, ranking Kosovo 34 spots higher than a year ago, whereas in terms international trade, Kosovo's position has improved by 8 places.
The index of economic liberties (published a week ago) for 2016 ranks Kosovo in a better position than a year ago, on the 22nd position, compared to the 35th position last year. Meanwhile, on a world level, Kosovo ranks 46th, as opposed to the 84th position last year. This index relates to economic freedoms, especially the promotion of entrepreneurship and innovation, low taxes and other procedures for the protection of competition.
Public finances have stabilized like never before. Fiscal discipline is yielding results. Institutions stick to their budget knowing that every figure in their budget is a law and if they don't comply to them, they are in violation of the law.
The program with the International Monetary Fund is going well and all structural criteria and targets have been met.
As of 1 April 2016, Kosovo has started to implement the Stabilization and Association Agreement, which enables Kosovo a bigger access in the EU's market, but this agreement also imposes standards about the quality that must be delivered. EU goods will become cheaper and cheaper for our consumers, because EU customs taxes drop by 2% a year until they are completely eliminated.
Challenges with the rule of law, efficiency of the judiciary system and the handling of economic disputes, efficiency of regulatory entities in different branches of economy, institutional bureaucracy and the division of powers, remain. /balkaneu.com/