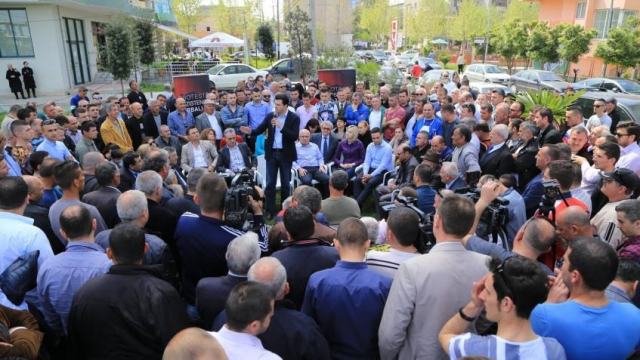 Tirana, 4 April 2016/Independent Balkan News Agency
In Albania, the opposition is presenting all around the country its program for what it considers to be an economic recovery.
The leader of Democratic Party, Lulzim Basha was in the city of Fier (photo) where he said that the departure of oligarchs will bring the change. Basha said that in the first year of the right wing government in office, there will be one billion euros more that will be circulating in the Albanian economy. "According to our plan, according to our tax package and investment plan, in the first year of office alone alone, one billion euros more will be circulating in the Albanian economy. Thus, a direct impact, because this is nearly 280 euros more per person in the pockets and hands of Albanians in goods, services, increase of purchase power, circulation of lek and on the tables of the Albanian people."
Furthermore Basha explained the "key of the opposition program": "The key to our program, the key to the offer of the Democratic Party for the future is this: the money that today end up in the tasks of oligarchs will be returned to the citizens through public investments, infrastructure, health, education, kindergartens, day care centers, water supply systems, irrigation and subsidies for agriculture".
The democrat leader said that if the DP comes in power, it will reduce taxes in order "for the citizens to have more cash to spend for themselves and for their families".
"Lek must start to circulate again, economy must grow once again based on healthy principles, where the first principle is the departure of this corrupt class, of these people who take the money of the Albanian people", Basha said to opposition supporters in Fier. /ibna/