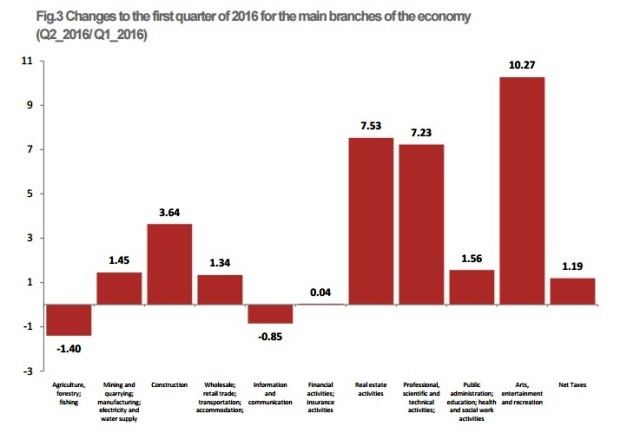 Tirana, 11 October 2016/Independent Balkan News Agency
In Albania, recent figures show that national economy has grown faster in the second quarter of the current year. Institute of Statistics says that in the period from April to June 2016, economy grew by 3,21%, as opposed to 2,96% in the first quarter.
"Gross Domestic Product (GDP) in the second quarter of 2016 in volume terms has increased by 3.21% compared with the second quarter of 2015", says INSTAT official report.
The main contribution to this increase gave the branches of the economy such as Trade Hotels and Restaurants and Transport by 0.70 percentage point, Professional services and Administrative services by 0.51 percentage point, Real a state activity by 0.43 percentage point, Public administration, Education and Health by 0.35percentage point, Information and Communication by 0.23 percentage point, Industry, Electricity and Water by 0.18 percentage point, Other services by 0.17 percentage point, Construction by 0.16 percentage point, Financial and insurance services by 0.09 percentage point.
The branch that gave a negative contribution is Agriculture, Forestry and Fishing by 0.32 percentage point.
INSTAT admits that formalization of economy has contributed to this.
It points out that net taxes on products contributed positively by 0,72 percentage points.
The weight of taxes on products that Albanians purchased saw a growth.
In the first half, this figure is 3,14%, while the government and IMF predict this growth to be 3,4% this year. The projection of the Bank of Albania is 3%. /balkaneu.com/