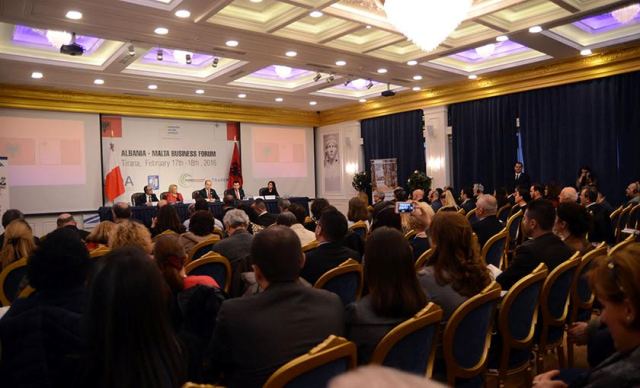 Tirana, 18 February 2016/Independent Balkan News Agency
Important representatives of the business world have gathered yesterday afternoon in a joint economic forum between Albania and Malta, which holds its proceedings for two days in Tirana.
The focus of this forum was the intensification of commercial relations between the two countries and further improvement of economic cooperation in key sectors.
15 representatives of the most important companies in Malta in sectors such as: infrastructure, tourism, energy, aquaculture, consultancy services, meet with Albanian partners to exchange their experiences and share common interests.
On the first day, the forum presented the opportunities that Albania offers for investments and an idea was launched for the creation of an economic council between Malta and our country, a structure which will act as the main pillar of economic cooperation in the future.
Albanian president, Bujar Nishani spoke at the start of the Joint Forum of Enterprise Albania-Malta. Nishani stressed the importance of creating a positive climate for entrepreneurs of both countries and to undertake steps and concrete incentives in order to build cooperating platforms.
"Entrepreneurship and investments, Nishani said, need facilitations and guarantees, which are closely connected to tax policies and the functioning of the rule of law".
President in the Forum, president of Malta, Marie-Louise Coleiro Preca, besides the support for bilateral cooperation in the domain of economy and trade, also suggested entrepreneurs from both countries to establish a Joint Business Council.
Albania and Malta are two small countries and neighboring countries in the Mediterranean region. They share lots of interests and similar challenges, which for many economy experts, must motivate them to have a closer collaboration with each other.
As a member of the European Union, Malta is getting ready to take over the EU Presidency for the first half of 2017 and this happens for the first time after its accession.
Albanian authorities are expecting from the Republic of Malta further support in the process of Albania's integration in the EU and to maintain EU's focus on the process of enlargement for Western Balkan countries.
Since June 2014, Albania is an associate EU member, but a date has not been issued yet for the launch of accession talks. /ibna/