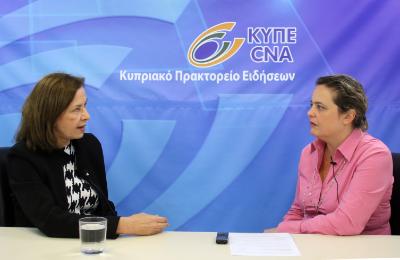 Nicosia, January 12, 2016/Independent Balkan News Agency
By Evie Mitsidou Phillips – CNA
The economic crisis is the greatest challenge for Cypriot society since it has restricted rights and limited the welfare state and social solidarity, Cyprus' Commissioner for Administration and Human Rights Eliza Savvidou has told CNA, noting however that "it has also forced us, through the exposure of corruption cases, to acknowledge the shortcomings and mistakes of past."
In an interview with the Cyprus News Agency, Savvidou, who has served in the office of the Commissioner since it first started operating in 1991 and was appointed as Ombudswoman in 2011, speaks about the work achieved so far, cooperation with government departments, the EU impact on the local society and the challenges ahead.
Her office, which in 1991 received approximately 450 complaints, now receives an average of 2,500 complaints per year, she says and it has grown from 5 to 28 officers. However, its duties have also multiplied since the Ombudsman`s office now operates as a comprehensive human rights organisation.
"The numbers alone do not reflect reality properly," she points out.
Replying to a question on cooperation with government departments, which her office monitors, she notes that there has always been good cooperation with small exceptions from time to time. In recent years, she points out, "cooperation has become more effective," adding that her office also acts proactively in cooperation with the relevant departments.
Asked whether the fact that her opinions are not mandatory makes her role less effective, she expresses the point of view that it is characteristic of the extrajudicial institution and points out that "it is not a minus. I believe we are effective."
At the same time she notes that when departments do not comply, "we don`t give up." Her office, Savvidou explained to CNA, will continue to raise the issue repeatedly. In some cases there is gradual compliance even after two or three years, she says.
Asked how open-minded society is, she notes that Cypriot society is a pluralistic society and that after EU accession in particular in 2004 "we have seen it evolve and modernise at a faster rate."
She acknowledges that there are certain aspects of conservatism in society but points out that they can be overcome. She gives the example of the law on cohabitation agreement passed by the Cypriot Parliament in 2015 which was a great development against any conservatism, prejudice and stereotype against LGBGT persons.
"Cypriot society continues to evolve significantly," she points out.
Invited to assess how Cyprus treats refugees, she said that the way refugees were rescued off the shores of the island and the fact that their basic needs were met sheds a positive light on Cyprus. This of course, she points out, was achieved with the significant contribution of volunteer organisations and NGOs.
However, she notes, "we are lagging behind on what happens the day after," that is to say, the refugees` integration, the protection of their rights, their access to work. She said her office monitors the situation and has been the recipient of several complaints.
Replying to a question on the treatment of people with disabilities, Savvidou notes that there are still many stereotypes and prejudices to combat.
"There is still a lot of work to be done on the rights of people with disabilities because we have to realise that their problems cannot be dealt with as a matter of philanthropy or charity but rather with specific actions and policies," she stressed.
One of the most important areas in which the Ombudsman`s office has intervened with reports, public statements and other initiatives is gender-based violence, she says replying to another question.
Savvidou adds that her office`s initiatives have touched all aspects of gender-based violence, including prostitution, human trafficking especially of women and young girls, female organ mutilation, domestic violence, sexual harassment and even sexism. This was made possible as part of an EU co-funded project which has recently been completed, she explains.
Asked if there is a positive outcome from her actions, she points out that things will not change overnight. "It`s a long road to combatting the roots of gender-based violence and discrimination," she says.
Asked which is the greatest challenge right now, she points to the economic crisis, noting that it has limited people`s rights, the welfare state and social solidarity.
At the same time, she says, by highlighting these issues it has focused action mainly through examining individual complaints on social benefits, health care and anything which has to do with citizens` financial situation.
Replying to a question, she says that it seems that Cyprus is on the way to recovery, and expresses hope that "injustices created by the crisis will be rectified."
Asked whether it can be said that there is rule of law in Cyprus, the Commissioner says that "of course there is rule of law, in spite of any shortcomings."
However she acknowledges that there are shortcomings in transparency and accountability. In recent years, she points out, and due to the economic crisis, many corruption cases have been exposed.
This is now dealt with in a more comprehensive manner, she says, "so that we can leave behind us this bleak, dark side of things."
Asked whether in a way the crisis has actually brought these problems to light, she said "yes, the economic crisis forced us to acknowledge certain truths and recognise certain mistakes which have taken place."
Source: CNA