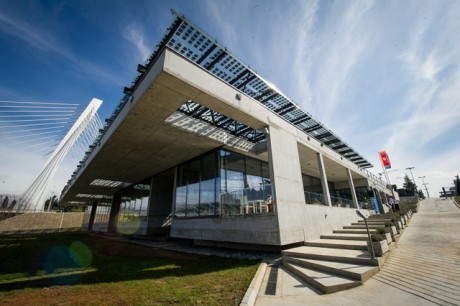 By Adnan Prekic – Podgorica
The President of Montenegro, Filip Vujanovic, and the deputy general secretary of the United Nations, Jan Eliasson Kenneth, inaugurated the United Nations ecological building in Podgorica. The United Nations Ecological building is the first of its kind in this part of Europe and it will accommodate seven UN agencies operating in Montenegro. Located in the city center, on the banks of the river Moraca, this building will be unique in its compliance with of all the environmental and energy requirements.
Storied, "smart buildings", combines energy-efficient environmental technology, modern design and it fits conveniently in the landscape between the two bridges on the river Moraca. The building was designed by Austrian architect, Daniel Fügenschuh, in collaboration with the engineering company "KING CHO engineering" from UK.
The designer of the eco building, said that it will cool and heat itself. The concept of the building is to use technology and energy systems that use little energy. For example, there is the ground water that is used to cool the concrete structure. Thus, water through the piping is used to cool the building. This means that you do not need a lot of air conditioners, which is a good thing considering how expensive and damaging to the environment they are.
Architectural solutions are designed to reduce energy consumption at a minimum. Floors, walls, windows, skylights and roofs are designed from a material with a high coefficient of thermal isolation. "This is the first energy-efficient buildings of the UN, and I think there is one more or two in the world that have a similar concept", said Fügenschuh.
Deputy Secretary-General of the United Nations Jan Eliasson, said that the idea to build an eco building rests on two strong issues. The first is the constitutional commitment of Montenegro to be an ecological state, that is why eco building shows Montenegro's commitment to sustainable development. The second is the commitment and obligation of the UN to lend support to efforts that improve the lives and expand opportunities for all citizens of Montenegro. "The concept and method of construction will serve as a key place to get together and devise new and creative ideas in many areas of building in this country", said Eliasson.
The construction of ecological United Nations building, which cost €3.5 million, was financed by the Government of Montenegro. The foundations were laid in September 2010 by the Administrator of the United Nations Development Programme, Helen Clark, and Prime Minister of Montenegro, Milo Djukanovic.