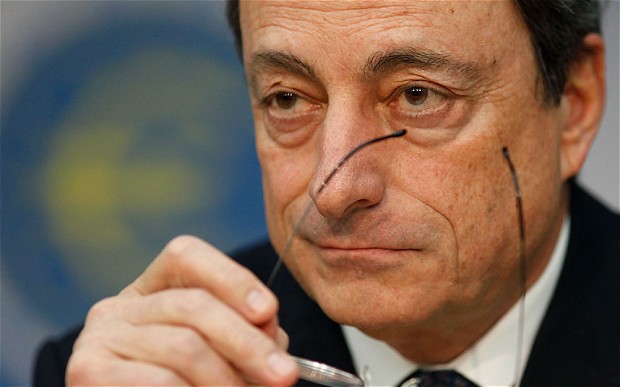 Greece, January 23, 2015/ Independent Balkan News Agency
By Lefteris Yallouros
The European Central Bank (ECB) a government bond-buying program on Thurday that will pump 60 billion euros a month to the eurozone economy.
The new quantitative easing program will see the ECB purchase sovereign debt from this March until the end of September 2016, President Mario Draghi revealed.
Greece will stand to benefit from the program as long as it concludes the current bailout deal and clinches a new agreement with its lenders for further reform. "Some additional eligibility criteria will be applied in the case of countries under an EU/IMF adjustment programme," Draghi said.
"We don't have any special rule for Greece — we have basically rules that apply to everybody," Draghi said. "There are obviously some conditions before we can buy Greek bonds."
Greece will be ineligible for the ECB's 1.1 trillion-euro program until at least July because of limits on how much debt the central bank buys from a single issuer, Draghi added.
With elections in Greece just three days away, the country could miss out on receiving funds if its new government – most possible led by the radical left-wing party, SYRIZA – fails to complete the current review.
SYRIZA however, welcomed the ECB decision, saying it "refuted all those who have sown fear and panic."
"It's an important decision that the next Greek government will take advantage to the benefit of the country," the party said in a statement.
It is not clear if the above statement means SYRIZA has abandoned its promise to renegotiate Greece's debt repayment and cancel austerity immediately upon coming to power. In any case, between the end of October – when the current bailout deal expires – and the end of July – when Greece will have to repay debt the central bank already owns – the country's new government will have to have an agreement in place with the EU and IMF in order to benefit from the ECB's scheme.
Meanwhile, Prime Minister Antonis Samaras addressed the Greek people shortly after Draghi's announcements Thursday to warn Greece risked exclusion from the program because of SYRIZA's stance against the EU/IMF bailout.
"Will Greece receive a portion of a gigantic, direct strengthening of liquidity and growth in the economy or are we going to lose this unique opportunity?" Samaras said.