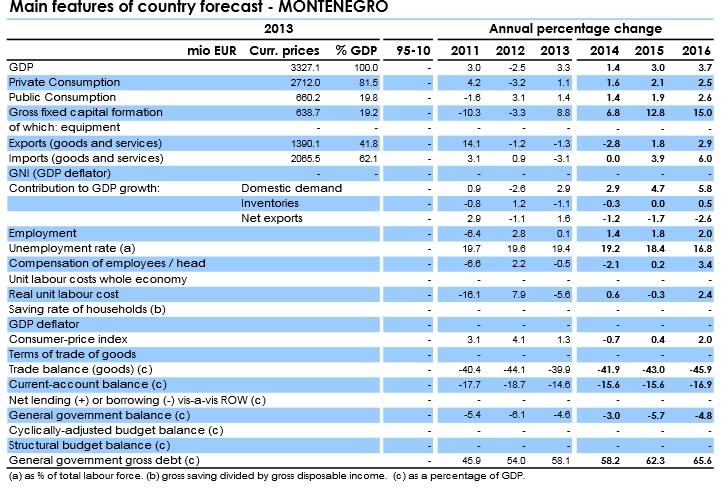 Podgorica, February 17, 2015/ Indeendent Balkan News Agency
By Adnan Prekic
Key economic challenges of 2015 in terms of sustainability of public finance will be the issue of Eurobonds and funding of the highway, underlines the European Commission's Winter Forecast report. The European Commission notes that Montenegro had a mild recovery in 2014, following a drop in industrial production and exports. Domestic demand remains constrained by limited and expensive bank lending. After several years of cuts into capital investment, the government will launch a major highway construction in 2015.  The project is set to have an important impact on growth, although fiscal risks require close attention.
Montenegro has experienced a slight economic recovery in 2014 with progress particularly evident in the last quarter of the year, states the European Commission  in its Winter Forecast report. In the first eleven months of 2014, the budget deficit was narrowed to 0.7% of the GDP from 3.7% in 2015. The reduction of the fiscal gap was underpinned by strong revenue of growth, indicates the report .
Positive momentum in further development in 2015 is the intensification of work on two large tourist resorts, Porto Novi and Luštica Bay, and the beginning of works on a priority section of the Bar – Boljare highway, which, according to the European Commission, can become a major driver of economic growth in the coming years.
It was also concluded that the entry of three new banks will contribute to the improvement of companies' loan supply. Key economic challenges of 2015. in terms of sustainability of public finance will be the issue of Eurobonds and funding the highway, states in European Commission's Winter Forecast report.
The greatest immediate risk for fiscal sustainability is the rollover of the 5-year Eurobond issue of  398 million EUR (or 10% of GDP) maturing in 2015. The main hazard will be the exacerbation of markets turmoil and raising the yield of the Montenegrin bonds.
The second largest risk is the financing of the highway. The total cost is estimated to be around 20% of the GDP (or 5% of the GDP per year, during the 4 years construction). Moreover, 80% of the funds are already secured by a loan from the Chinese Exim bank with very favourable financing conditions, with a grace period of six years and 2% interest rate. There is also an exchange rate risk, because the loan is being extended in US dollars. At present, with the depreciation of the euro against the dollar, it will increase the purchasing power of the borrower, but this situation could reverse in the future.
Another important risk is the over-costs, covered to some extent by a performance bond issued by the Chinese construction companies. The project will require a strict management and the preparation of contingent fiscal plans in case of slippage, but also, in case of faltering economic growth and/or inflation, two important factors to help reducing public debt in nominal terms, it was concluded in the winter report of the European Commission.