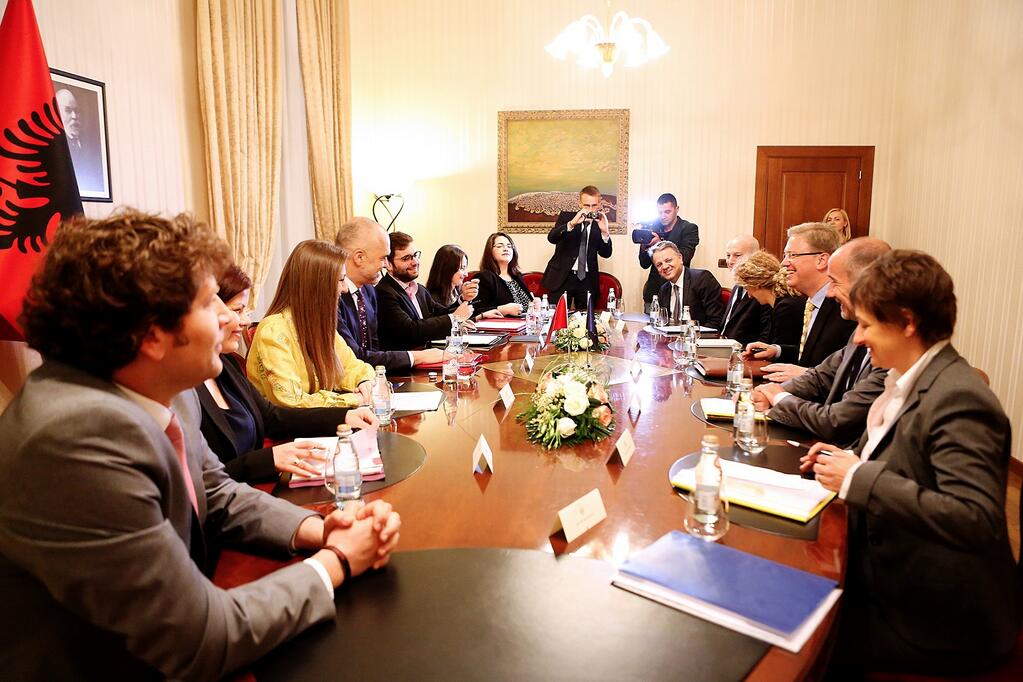 UPDATE
Tirana, June 4, 2014/Independent Balkan News Agency
European Commission has drafted a report in which it recommends the European Union Member countries to grant Albania the candidate status for accession.
Based on the findings of the report, the Commission confirms its recommendation that the Council of Ministers of the European Union must grant Albania the candidate status.
It's not clear if there will be a concrete date for the opening of negotiations for accession.
A few minutes ago, prime minister Edi Rama confirmed the EC recommendation.
"A strong "YES" without reserves for Albania's candidate status is recommended to European Union member countries", declared Mr. Rama.
Tirana is hosting today the third round of talks Albania-EU (photo). European Commission is expected to reconfirm the recommendation to grant Albania the EU candidate status in the report on the developments in the country, especially in the domain of the fight against corruption, organized crime and other reforms in the justice system.
European Commissioner for Enlargement, Stefan Feuele has praised the work of the Albanian police for the fight against crime. At the same time, he has demanded tougher measures against incriminated judges.
Details of the report
"Albania has continued to implement and consolidate its measures about the reforms relating to the EU, especially the ones relating to the candidate status. There's been a constant political will to act in the prevention and fight against corruption and the structural reforms show a comprehensive approach and a significant number of institutions have become part of it.
Important legislative reforms have been undertaken in the fight against organized crime and investigations have produced positive results in the fight against the traffic of narcotic substances and other domains of serious crimes and organized crime.
Albania has shown its commitment to reform the justice system, by working with the Venice Commission in order to improve the independence, responsibility and professionalism of the system", assesses the Report.
The report of the European Commission also mentions what Albania must do in order to move forward in the process of European integration. "It's important for the systematic approach toward the reforms to continue. The sustainable results will be of a key importance for its European integration", underlines the report.
The report says that Brussels has identified several key challenges that Albania must tackle in its path toward European integration.
During the right wing government, former prime minister Sali Berisha was refused the status three times in a row. Berisha blamed the left wing opposition of not offering its consensus for the important laws that the EU had imposed as criteria.
From September 2013, the country is governed by the left. In December, the government of prime minister Edi Rama failed in its effort to be granted the status, although the European Commission recommended it. Brussels declared that time was needed to assess if this government would make constant efforts for integration. /ibna/
FULL REPORT: European Commission report on Albania's progress, June 2014
More: Edi Rama: 99% of MEPs don't know what the EU candidate status is