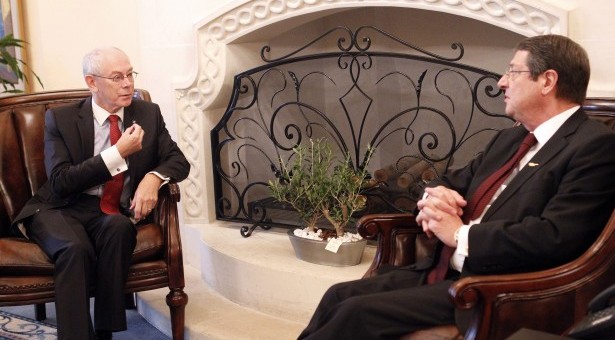 By Christos T. Panagopoulos –
President of the European Council, Herman van Rompuy, is visiting Cyprus on Tuesday, where earlier met with President of the Republic, Nicos Anastassiades.
According to Cypriot media, the discussion between the two men included all recent developments in Cypriot economy, as well as in efforts that Nicosia is making to restart negotiations with the Turk-Cypriot side, in preparation of the next European Council summit, which will be held on 24 and 25 October in Brussels.
"I will personally observe the Cypriot issue"
Herman van Rompuy assured President Anastassiades that he will personally observe all developments concerning the Cypriot issue. "Our common objective", he said, "is to see Cyprus again reunited" and expressed his hope that negotiations between the two sides will soon begin. Moreover, he encouraged both sides to seize the opportunity and find a solution, "which must fully comply with the acquis communautaire".
"We discussed, along with President Anastassiades, the EU's high involvement in the procedure and will continue this conversation in Brussels in two-week' time. There might be a possibility to have a bigger involvement from the EU in the solving procedure of the Cypriot issue", the head of the European Council noted.
"I acknowledge the sacrifices made by Cypriot citizens"
Rompuy also referred extensively to the issue of the economy, by assuring that he knows the sacrifices that many Cypriots had to make as a result of the economic crisis.
But he expressed his certainty that Cyprus "with hard work will overcome the crisis" and welcomed the first positive evaluation made by the Troika's representatives. Furthermore he made clear referral to the supplementary 200 million euros, which were given by the EU funds to Cyprus, apart from the 500 million euros, which had already been agreed, reassuring that the EU will continue to show her solidarity towards Cyprus.
Referring to the recent development in the Cypriot EEZ, Rompuy stressed that "it is clear the Cypriot Republic has every legal right to exploit the carbohydrate resources with its EEZ and this consists an important factor in its economy's recovery".
Later on Tuesday, Rompuy made a speech at the University of Cyprus, while at noon, President Anastassiades had scheduled to host an official in honor of him.
Head of the EC and his escort will depart from Cyprus early on Tuesday afternoon. It is the first time after the financial crisis burst in March, that a top community official visits the island.
Source: Sigmalive