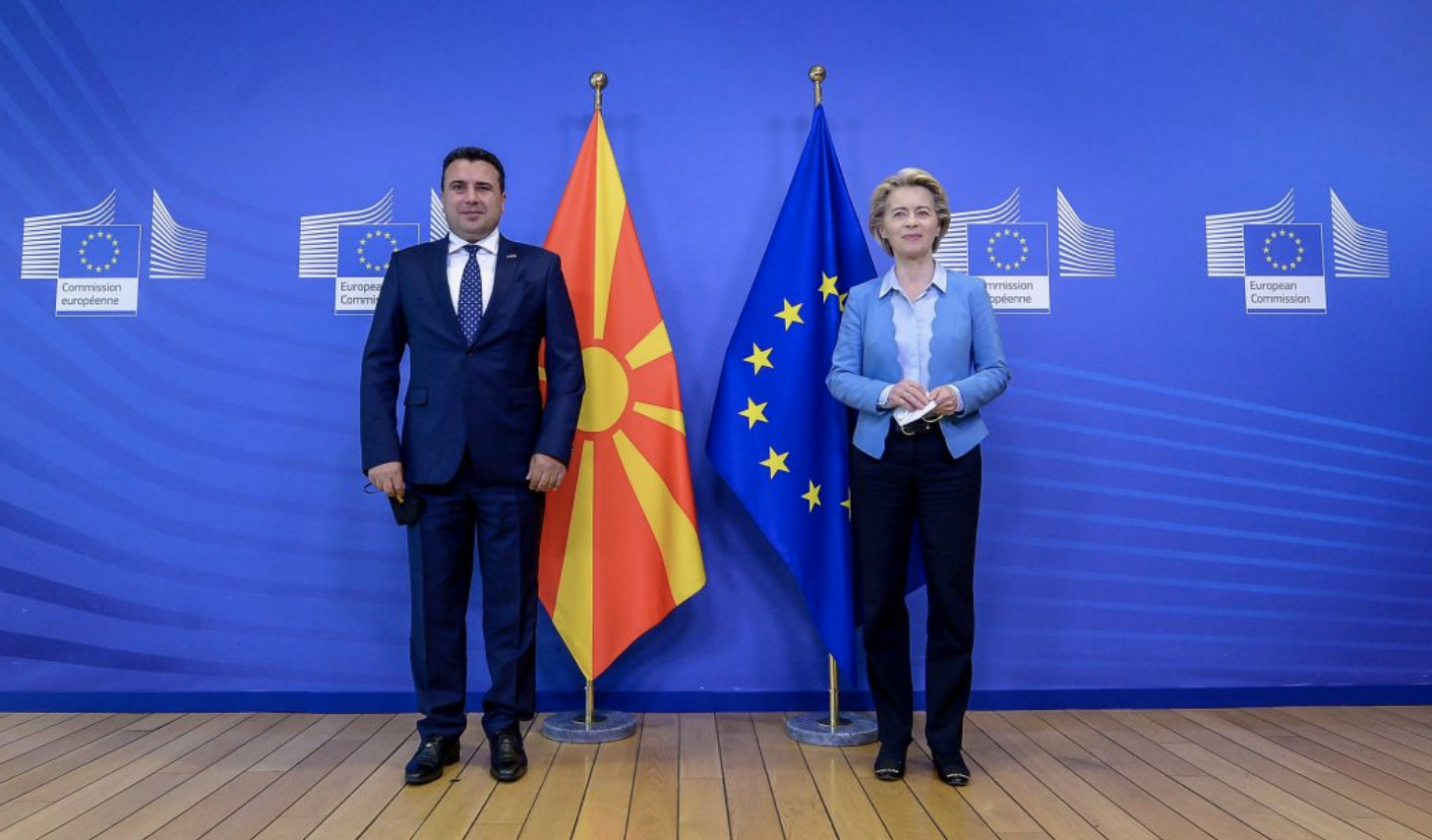 The European Commission encourages Bulgaria and North Macedonia to find a solution to the bilateral dispute as soon as possible so that the inter-governmental conference can begin which will give the start to North Macedonia's EU accession negotiations. This was stated by EC chief spokesperson Eric Mamer.
Eric Mamer added that EC President Ursula von der Leyen had supported the start of negotiations with North Macedonia during the meeting she had with PM Zoran Zaev today.
EC spokesperson Ana Pisonero stressed that the Commission maintains its position that North Macedonia and Albania have fulfilled the conditions for opening negotiations and insists that an inter-governmental conference be convened as soon as possible.
Last week Olivér Várhelyi, the European commissioner for enlargement, told Euronews that decoupling Albania from North Macedonia in their accession process "might be an option" if Bulgaria continues to oppose North Macedonia's entrance in the bloc.
From his side, North Macedonian Prime Minister Zoran Zaev said that It is not possible to split the EU membership bids of North Macedonia and Albania.
"Our identity, macedonian language, macedonian identity, are holy for us, like for every [other] country," Zaev told Euronews on Monday morning after his meeting with European Commission President Ursula von der Leyen in Brussels.
"Our macedonian language and macedonian identity are not negotiable" added Zaev.
Zaev said that the Prespa agreement, which Greece and North Macedonia reached in 2018 to resolve a dispute over the latter's name and facilitate the accession talks, is an example of his country's willingness to engage in diplomacy.
"But there are limits to that goodwill", he warned.
"We have our pride and we have our identity. Our pride can go up and down. We showed that through the Prespa agreement and with our diplomacy and flexibility.
"Our identity is one and unique and there is no possibility my government or any other government to negotiate for that. And therefore, it's not possible [for] either a state or even a union [of which] we are not still members, to play with that.
"[From my side], it's not possible to have decoupling, or [any other kind] of development or event for practical reasons without a word of North Macedonia after everything that's happened," Zaev said in reference to the landmark agreement and the reforms his country has implemented as part of preparations for EU membership.
"We expect the EU as a whole, all 27 member countries, the European Commission, to be in the line to what they promised to us. We are open to discuss any issue [that] is negotiable for everyone. But issues like identities, like languages, are never talked in any step of enlargement of the European Union with any other country", said Zaev.
"It's a huge risk if there is a continuation of the blockage. It's a risk for Bulgaria also, for North Macedonia, for the whole Balkans," he warned.
The prime minister of North Macedonia believes the prolonged accession bid and its resulting frustration have led to the circulation of an alleged non-paper that advocates redrawing the borders of the Balkan countries formed after the break-up of Yugoslavia./ibna