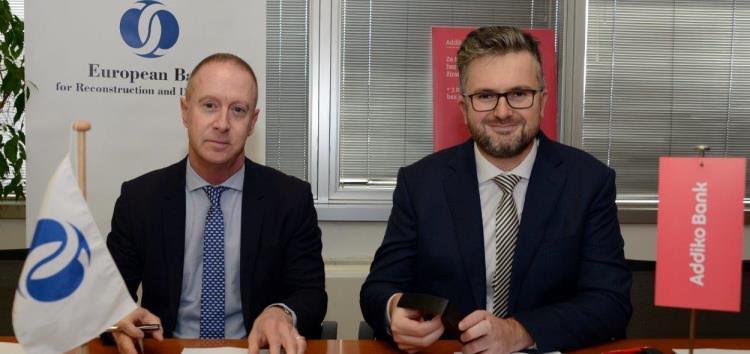 The European Bank for Reconstruction and Development (EBRD) is extending a €5 million loan to the Banja Luka Addiko Bank a.d., to support the growth and development of local small businesses in Republika Srpska, one of the two entities of BiH.
As it was announced in the EBRD press release, the financing will be provided in the form of individual credits to micro, small and medium-sized enterprises. Sources of long-term financing remain limited in Bosnia and Herzegovina and this remains a major obstacle for the growth of the private sector.
Ian Brown, EBRD Associate Director, Head of the Bosnia and Herzegovina Office, said that EBRD is very pleased to starting this cooperation with Addiko Bank Banja Luka.
"This will allow us both to support the development of the bank and strengthen the real economy. It is absolutely essential that the talents and engagement of private entrepreneurs in Bosnia and Herzegovina are encouraged and bolstered. Our loan is one such example and we hope many more will follow", Brown stressed.
Mario Ivanković, CEO of Addiko Bank a.d. Banja Luka, said that, with this financing, the EBRD is providing additional support for the Addiko Bank business model, but also for the local banking sector, in general.
"As one of the significant market players, Addiko Bank Banja Luka is committed to improving its business operations and strengthening its position in this market. We are glad that this arrangement will be primarily used for supporting the SME sector as a driver of the local economy, but indirectly also supporting local communities and their economic development," said Ivanković.
Since the beginning of its operations in Bosnia and Herzegovina, the EBRD has invested more than €2 billion, in over 145 projects in the country. The Bank focuses on supporting restructuring and expansion of the local private sector, forging closer links with wider regional markets and promoting a more efficient and sustainable use of resources.
On Friday, EBRD also, categorically, dismissed the allegations that this institution bribes politicians in BiH.
"We are not directly acquainted with the media statement according to which a BiH parliamentarian states indirect accusations, but we categorically dismiss all allegations of any bribery of politicians in BiH," the EBRD headquarters in London told SRNA News Agency, as a reply on the demand to comment on the statement by the head of the SDS caucus in the House of Representatives of the BiH Parliamentary Assembly, Aleksandra Pandurević; she had stated that "it has already been seen that some politicians receive interests from the European Bank".
Pandurević told a TV journalist, that she was sorry local politicians did not know how to serve the citizens, but they put themselves in the service of the EBRD.
"I would not be surprised (finding) that some politicians get certain interests from the bank. Some politicians receiving interests from the European Bank is déjà vu. When you realise where the money and public funds are kept – it's always in the same banks," Pandurevic has said…/IBNA