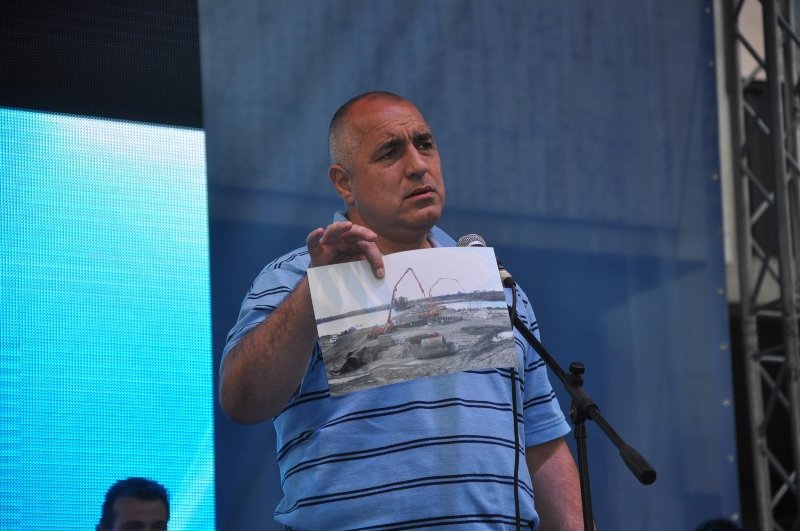 By Clive Leviev-Sawyer of The Sofia Globe 
The results of the first opinion poll to have been done after allegations of illegal eavesdropping were directed against Bulgaria's former ruling centre-right party, Boiko Borissov's GERB, show it as having lost support in the run-up to the May 12 national parliamentary elections.
Borissov's party was in power from 2009 until March 2013, when he resigned in the face of nationwide anti-poverty and anti-monopoly protests. Elections that would have been held in July were called for May.
Most recent polls have shown a widening gap in support between GERB and the Bulgarian Socialist Party, with some showing Borissov's party with a lead of up to six points over the socialists.
However, the results of an initial two-week investigation into alleged illegal wiretapping of top state officials, politicians and business people, which found "prerequisites" for illegal eavesdropping although no actual evidence of such, dominated headlines and political discourse, apart from leading to criminal charges against four officials from the department in charge of eavesdropping. These charges related, in three cases, to dereliction of duty in not setting clear rules for the use of electronic surveillance and in the fourth, to allegedly seeking to obstruct prosecutors conducting the investigation.
The allegations were put to Bulgaria's Prosecutor-General by socialist leader Sergei Stanishev, who on April 24 was called to the prosecutors' office in Sofia for questioning about the allegations.
On April 25, a poll by the Mediana agency showed GERB at 23 per cent support, down from the 26.4 per cent shown by Mediana in results announced on April 12. At the same time, however, support for the socialists also had dropped, to 21 per cent from 23.7 per cent on April 12. (All other recent polls have shown the socialists shedding a few percentage points.)
At the same time, the impact of the eavesdropping controversy was not the only thing to potentially give GERB cause to worry.
The Mediana poll showed that a significant part of the electorate that previously voted for GERB were "wobbly" about whether they would go to vote on May 12. Twenty-eight per cent of GERB's previous electorate, according to Mediana, could possibly consider voting for another party. The socialists' electorate showed a higher determination to vote.
According to Mediana, in an article in Bulgarian-language daily Trud on April 25, the reason for GERB having been shown to shed support was not only the eavesdropping controversy, or the controversy surrounding the now-suspended head of Bulgaria's anti-organised crime directorate because of allegations surfacing from an investigation a decade ago into his alleged illicit links with organised crime figures, or cost-of-living issues such as electricity bills, but in a cumulative combination of all of these.
"The problem is that the individual links, each in itself insignificant, create a heavy chain that is dragging down the prestige of the former ruling party," the agency said.
There was another disturbing set of data in the study, according to Mediana, showing a "permanent sense of fear" about the possibility of the government systematically violating privacy, listening in and controlling the citizenry.
One in six Bulgarians worried that free expression of political views would lead to problems. One in five believed that the government was listening in to their mobile phone conversations. Only one in three believed that the elections would be fair and honest.
All of these factors made the election's outcome difficult to predict, the agency said.
The combination of crisis, fear, frustration and discontent that had been seen in the street protests of February and March had "vanished from the street, but settled in homes and souls," Mediana analysts said.
* A total of 7200 Bulgarians are candidates in the May 12 national parliamentary elections, and just 240 will make it into the National Assembly.
Who will become the members of the 42nd National Assembly will be determined by whoever turns out to vote from among the more than 6.9 million citizens eligible to vote in this country of 7.3 million. Thirty-eight political parties and seven coalitions are in the field. Of these, going by opinion polls, it is most realistic to expect that about five will make it into Parliament. Going by all recent polls, these parties are GERB, the socialist party, the Movement for Rights and Freedoms (led and supported in the main by Bulgarians of ethnic Turkish descent), Volen Siderov's ultra-nationalists Ataka and former European Commissioner Meglena Kouneva's Bulgaria for Citizens.
(Photo of Borissov: gerb.bg)