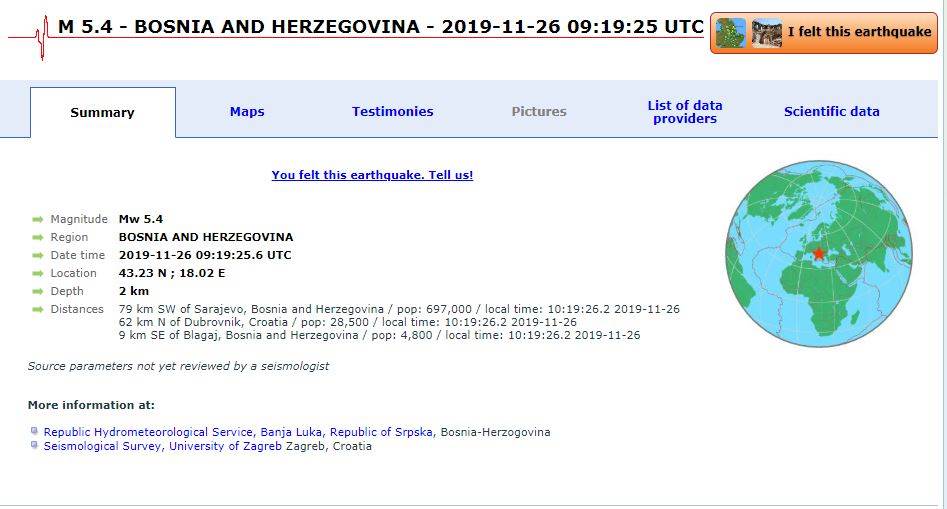 Just a few hours after a strong earthquake shook Albania, a weaker one hit Bosnia and Herzegovina.
Officially, the earthquake with a magnitude of 5,4 on the Richter scale hit BiH a few minutes after 10 AM on Tuesday, only hours after Albania's port city of Durres, some 340 kilometres away, was hit with another devastating earthquake.
According to the European-Mediterranean Seismological Centre (EMSC), the epicentre of the earthquake, which hit at 10:19 AM, is in the area near the southern town of Nevesinje. The unofficial information says that two persons are injured, but there were no death casualties in this case. The two injured were two workers on a construction site, in the city of Mostar, who were on the scaffold at the moment when the quake hits. One of them jumped off the scaffold in panic, and a stone from the building hit another.
Several buildings in the cities of Mostar, Nevesinje and Blagaj have reportedly sustained damages. Citizens say that the quake came suddenly and that it lasted less than a minute. But, it was enough for the people to leave the buildings in panic. The parents went to schools to take their children.
The shaking was felt in Sarajevo too, where also several buildings are damaged but they are not endangered. In just a few cases, parts of the facade fell off.
"It was terrible, the jars and books started to shaken and falling on the floor. I never felt such a strong earthquake in Mostar," said one citizen for IBNA. He added that by pure luck there were no casualties, but that the following night will be very difficult for all people in the affected area.
Last month, the second largest city in BiH, Banja Luka, marked 50 years since the devastating earthquake when 15 people were killed and dozens were injured. The city was destroyed and renovated but this event marked it and it is still vivid in the memories of the citizens. Along with the Skopje earthquake, a few years earlier, and the Montenegro earthquake, a few years after that, the Banja Luka earthquake was one of the strongest in former Yugoslavia./ibna