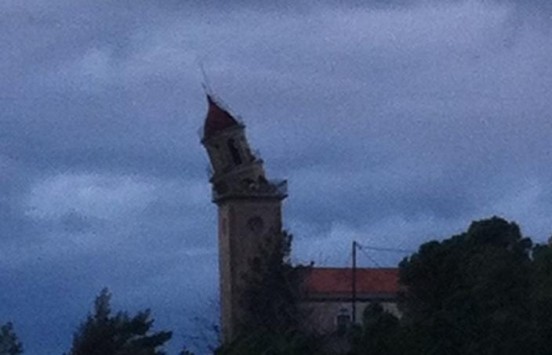 Review Hari Stefanatos
A new earthquake 5.7 on the Richter scale, according to the Geodynamic Institute of the National Observatory of Athens,  shook the island of Cephalonia on the Ionian sea at 5:08 am on Monday morning.
The earthquake was felt as far as the northwestern part of Peloponnese, at the village Elia, and on both sides of the Corinthian Gulf.
Ten people received slight injuries as a result of the earthquake, all of whom were released from the local hospital after receiving the first aid, according to a statement by, Dionyssis Markatos, the hospital director of Lixouri, which is on the western coast of the island.
This latest aftershock had a devastating effect on the church's belfry (photo) of the town of Kourouklata, situated on the western part of the island.
According to Dimitra Sachpatzi, the Director of the Geodynamic Institute, this recent earthquake had the same epicenter as the primary one on January 26, 12km from Argostoli on the western coast, which had been measured 5.8 on the Richter scale. She went on to say that specialists expect more aftershocks of similar magnitude over the next few days.
Sapchatzi, did not rule out the possibility of the recent seismic activity reactivating the area, which was the epicenter of the massive earthquake that had devastated the island in 1953.
After Sunday's, January 26, main earthquake, an aftershock measured 5 on the Richter scale had shaken Cephalonia at 18.33 pm Greek time on Saturday, February 1, as measured by the Euro-Mediterranean Institute. This was the strongest, but one of several aftershocks that have been keeping the citizens and the authorities on high alert for over a week now.
(Source AMNA, newsit)