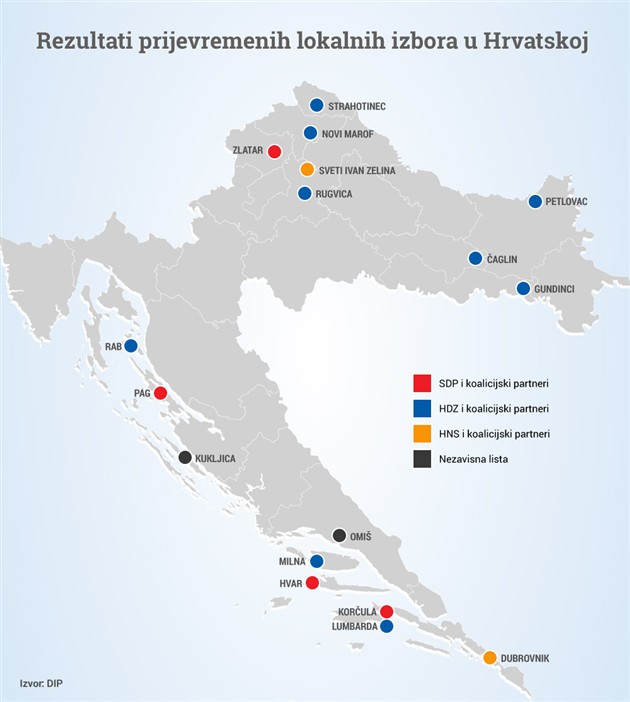 Zagreb, March 9, 2015/ Independent Balkan News Agency
By Marija Avramovic
In the first round of early elections on Sunday in nine cities and eight municipalities in Croatia Omis, Zelina, Rab and Zlatar elected their mayors whilst Rugvica, Kukljici and Lumbarda elected municipal perfects.
Mayors of Dubrovnik, Korcula, Hvar, Pag and New Marof will have to be elected in the second round of elections.
The new mayor of Rab, Nikola Grgurić is the member of Croatian democratic party (HDZ), the people of Omis once again chose independent candidate Ivan Kovacic for their mayor, as well as the citizens of Zlatar who re-elected the current mayor, an independent candidate Stanko Majdak.
In the second round citizens of Dubrovnik will be choosing between Croatian People's Party – Liberal Democrats (HNS) candidate and former mayor Andre Vlahušić and HDZ candidate Mate Franković.
"We are pleased with the results, particularly in Rab and New Marof. In Dubrovnik, the largest of all the cities in which elections were held, regardless of the huge lead of Andre Vlahušić, nothing is still over and we are convinced that we can make a comeback in this area. As for Omis, in which we were defeated, I rather not discuss the reasons for the defeat until we have consultation with the county and city branch. The fact is that we have lost and that we are therefore dissatisfied", member of the HDZ presidency Gordan Jandrokovic commented.
Bosko Picula, a political analyst believes that these elections confirmed two things, that there is big polarisation in the country into two sections and that voters in a number of cities re-voted for the people who had been elected two years ago.
Early elections in 17 cities and municipalities are perceived as a kind of test for the parliamentary elections which could be reasonable since results of the first round showed a tie between right and left, but also the debacle of the Human Wall and ORaH, a relatively young parties with not so many members.
ORaH failed to enter the city councils on the island of Pag and Dubrovnik while the Human Wall participated in elections in six cities, but were only able to enter into the city council of Hvar.
The second round of elections for the cities and municipalities where mayors and prefects have not been elected will be held March 22.