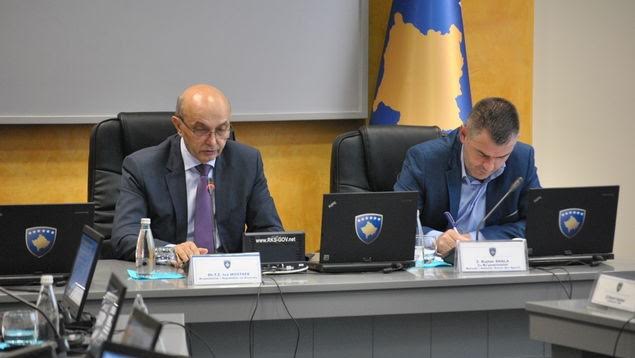 Prime Minister of Kosovo, Isa Mustafa has once again refused today the request made by opposition parties for early elections.
According to Mustafa, the elections are being requested for political reasons and not for the issue of the border demarcation.
"I would like to invite MPs to once again see the documents of the state commission for the border demarcation with Montenegro. The coalition will continue its work until 2018. We are doing an excellent job", said Prime Minister Mustafa in today's government meeting.
Meanwhile, the opposition continues insist on the holding of fresh elections. According to it, now there are more reasons than ever to head to the polls.
The head of the Self Determination parliamentary group, Glauk Konjufca says that the sooner elections are held, the better it is for the citizens of Kosovo.
"The demarcation alone is a strong reason for the holding of fresh elections. This is not a fair agreement, because Kosovo loses 8 thousand hectares from it", he says, considering the current government as a criminal government, following the death of Self Determination activist, Astrit Dehari in the prison of Prizren.
Meanwhile, the head of AAK's Parliamentary Group, Pale Lekaj says that although the government has the necessary numbers in parliament, it is unable to advance many important processes.
"It's sad to see the situation we're in as a result of the wrong policies of this government. This is why I think that we should head to elections as soon as possible, because citizens have had enough of this government", he declared. /balkaneu.com/