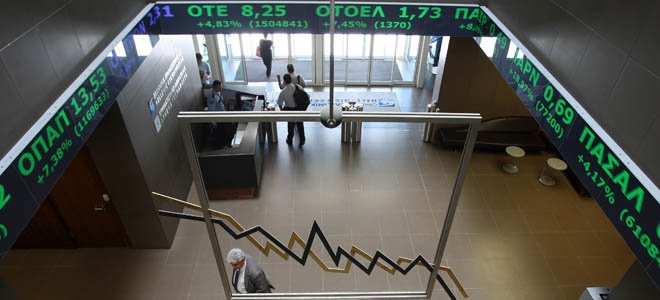 By Lefteris Yallouros – Athens
Talk of an early general election in Greece has sent the Athens Stock Exchange crashing down for a fourth consecutive session.
Delays in the privatization of the country's systemic banks have also played a part in the downward spiral.
The Athens Exchange (ATHEX) general index closed at 1,215.34 points, shedding 1.95 percent from Monday's 1,239 points.
The large-cap FTSE/ATHEX 25 contracted by 1.63 percent to 401.11 points.
Three blue chips ended the day on the winning side with Coca Cola HBC gaining 2,19%, Titanas up 1,92% and Intralot adding 0,47%.
The country's systemic banks crashed to losses yet again ( Eurobank -7,65%, NBG -2,27% Piraeus Bank -2,79% Alpha Bank -3,37%).
Turnover amounted to EUR 109.45 million.
The flow of funds into the Greek stock market from abroad has been constantly increasing since the fears of a Greek exit from the eurozone subsided. In the last 16 months (August 2012 – December 2013), some EUR 2.44 billion in foreign funds has been invested on the Greek bourse.
However, the mood has changed lately as the possibility of an early general election being called either in May or early 2015 have resurfaced, causing great uncertainty over the effects an election will have on the effort being made to mend the economy.
There is also the added mystery over the amount of capital the country's four systemic banks will have to set aside to cover potential loan losses in future.
The four banks, all majority-owned by Greece's bank bailout fund (HFSF), are currently being stress tested by the Greek central bank and independent consultants. The government wants the troika to agree to a lower capital ratio in order to use funds left over to plug funding gaps in the economy.
After the stress tests are over, the market expects a new law on the share capital increase of the systemic banks – which stalled in recent weeks – to finally be approved.