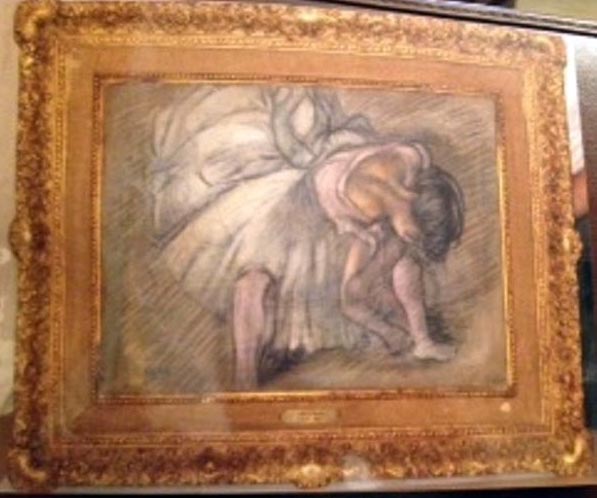 By Kyriacos Kyriacou-Nicosia
A 19th century French artist Edgar Degas painting worth €6 million euro, along with other valuables worth €157,000, was stolen from a home in Limassol.
The gold-gilded framed painting belongs to a Marios Vasiliades, a 70-year-old former lawyer and collector. It is titled "Seated Dancer Adjusting Her Shoes" and according to the owner it's an original. He gave documents to the police to prove its authenticity.
According testified that his house had been broken into between 9.50am and 2.30pm on Monday. Earlier he was in negotiations with three people interested in buying some of his paintings. They had also visited he house a few times to see the paintings. The Degas painting, as he said, was not for sale. It was passed on to him by his great grandfather.
Two arrested, one missing
Vasiliades expressed suspicions against the three. Two of them, a 44 year old Greek Cypriot taxi driver and a 53-year-old businessman were arrested today. The police is still looking for the third person, a Russian man, 55, resident in Limassol, who had shown an interest in buying paintings from the 70-year-old.
The art collector was in a dire financial situation due to last year's haircut in bank deposits. All of his belongings are currently unsecured! The burglars went straight for the Degas, ignoring all other paintings in the house. There was no alarm in the house.
Along with the painting by French 19th century artist Edgar Degas – regarded as one of the founders of Impressionism – worth €6m, a safe containing seven gold watches, three pairs of gold opera glasses and other items worth €157,000 were also taken.
Who is Edgar Degas
Edgar Degas, (1834 –  1917) was a French artist famous for his paintings, sculptures, prints, and drawings. He is especially identified with the subject of dance; more than half of his works depict dancers. He is regarded as one of the founders of Impressionism, although he rejected the term, preferring to be called a realist.
He was a superb draftsman, and particularly masterly in depicting movement, as can be seen in his renditions of dancers, racecourse subjects and female nudes. His portraits are notable for their psychological complexity and for their portrayal of human isolation.