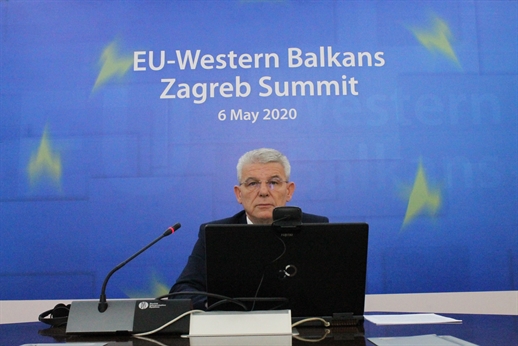 The Chairman of the Presidency of Bosnia and Herzegovina, Šefik Džaferović, addressed the participants of the EU-Western Balkans Summit held via video conference, starting off by expressing his sincere condolences to the families of those who lost their lives due to coronavirus.
"The situation we are all going through has undoubtedly been one of the greatest challenges of our time. Covid-19 does not know borders, regions, nations. However, despite the physical isolation, this unhappiness we are experiencing has brought us all closer together and has brought to the fore the need for greater mutual cooperation and solidarity", Džaferović stressed.
He thanked the European Union and its member states for their help and support in this difficult time, when most EU member states are facing an extremely difficult situation of their own, which is why the EU assistance is even more important and symbolic.
"The European Union's assistance to our country amidst these difficult times also operates as a very strong political message that Bosnia and Herzegovina and the Western Balkans remain one of the main geopolitical priorities of the European Union, namely that the future of the Western Balkans is with the European Union", Džaferović said.
He stressed that today's virtual Summit provides an opportunity for high-level political dialogue with the European Union and its Member States to continue, adding that the fact that the European Union has decided to organize the meeting despite the extremely unfavorable conditions further underscores the political message of importance the EU attaches to the Western Balkans as an integral part of the Union.
"More than ever, the citizens of Bosnia and Herzegovina need a loud signal regarding the country's European perspective, which is that of the candidate country status. Our ultimate goal is membership in the European Union, and the candidate status constitutes one of the steps along the way. It is time the European Union enable that step, in order to prove that the goal of the EU membership is achievable and realistic, that the efforts make sense and to encourage us to continue with the necessary reforms", stressed the BiH Presidency Chairman.
He added that BiH was aware that the speed of its European path depended primarily on the country itself, namely on how efficiently it would manage to fulfill the necessary conditions and transform the society in accordance with the EU standards.
Speaking about regional co-operation, he emphasized that in the Western Balkans it represents an integral part of the European path of the whole region, as the countries are linked through a common strategic goal – membership in the European Union. /ibna