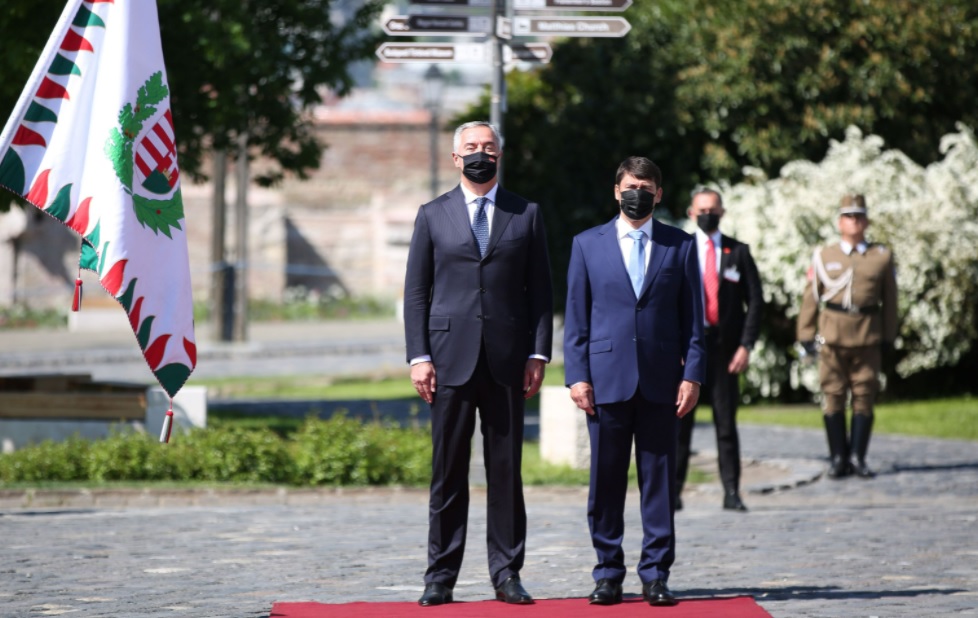 Montenegrin President Milo Đukanović is on an official visit to Hungary, where he met with President Janos Ader and other senior officials in Budapest.
After the meeting with Ader, Đukanović told reporters that the EU must not forget "one room in its house", such as the Western Balkans, because that will generate an increasing level of intolerance and conflict. Ader said that he had asked EU leaders before and now to support the European integration processes of the Western Balkans and to speed them up.
"Unfortunately, we have found that the previous years have been very dry when it comes to enlargement policy. This is, in a way, a surprise, given that enlargement policy has long been assessed as the most successful EU policy and now that it is nearing completion the process of unification of Europe, there was first the fatigue that has been talked about in the EU for a long time, and after that there was a tacit slowing down of that process," said Đukanović.
This, as he stated, resulted in a decline in Euro-enthusiasm and reform enthusiasm in the region.
"As a result, we have gained geopolitical interests in the Western Balkans of third countries, which, logically, use empty space," the Montenegrin president added.
Upon his arrival in Budapest, on Monday afternoon, Đukanović met with non-resident Ambassadors and Diplomatic representatives of eight countries: Estonia, the Philippines, Georgia, Ireland, Colombia, Latvia, Thailand and Pakistan, covering Montenegro from Hungary.
The President thanked the Ambassadors for the attendance and expressed satisfaction that, in the framework of his official visit to Hungary, he had the opportunity to meet with them and keep good communication between Montenegro and the Ambassadors. Emphasizing that his visit to Hungary is the first official visit since the pandemic has been declared, he expressed the expectation that the time of foreign policy relations at a distance will soon be ended and that conditions for in-person diplomacy are being created. "Hungary, as a good and responsible neighbour, strongly supports the efforts of both Montenegro and the region in terms of integration, which is highly appreciated in Montenegro, because we believe that our region will have stability and prosperity when it joins the EU and NATO. Although we are registering slowdowns in the enlargement process, we believe that Montenegro will be the first next EU member," Đukanović said.
The Ambassadors thanked the President and the Montenegrin Embassy as a host for the opportunity to meet and hear a valuable analysis of the situation in Montenegro and the region, with the expectation that after the epidemiological situation calms down they will be able to come to Montenegro more often and strengthen interstate relations.
The Ambassador of the Republic of Ireland Ronan Gargan said that his country strongly supports the enlargement process, looking forward to Montenegro's becoming a member once the conditions are met. He also pointed out that interest in investing in Montenegro continued during the pandemic./ibna