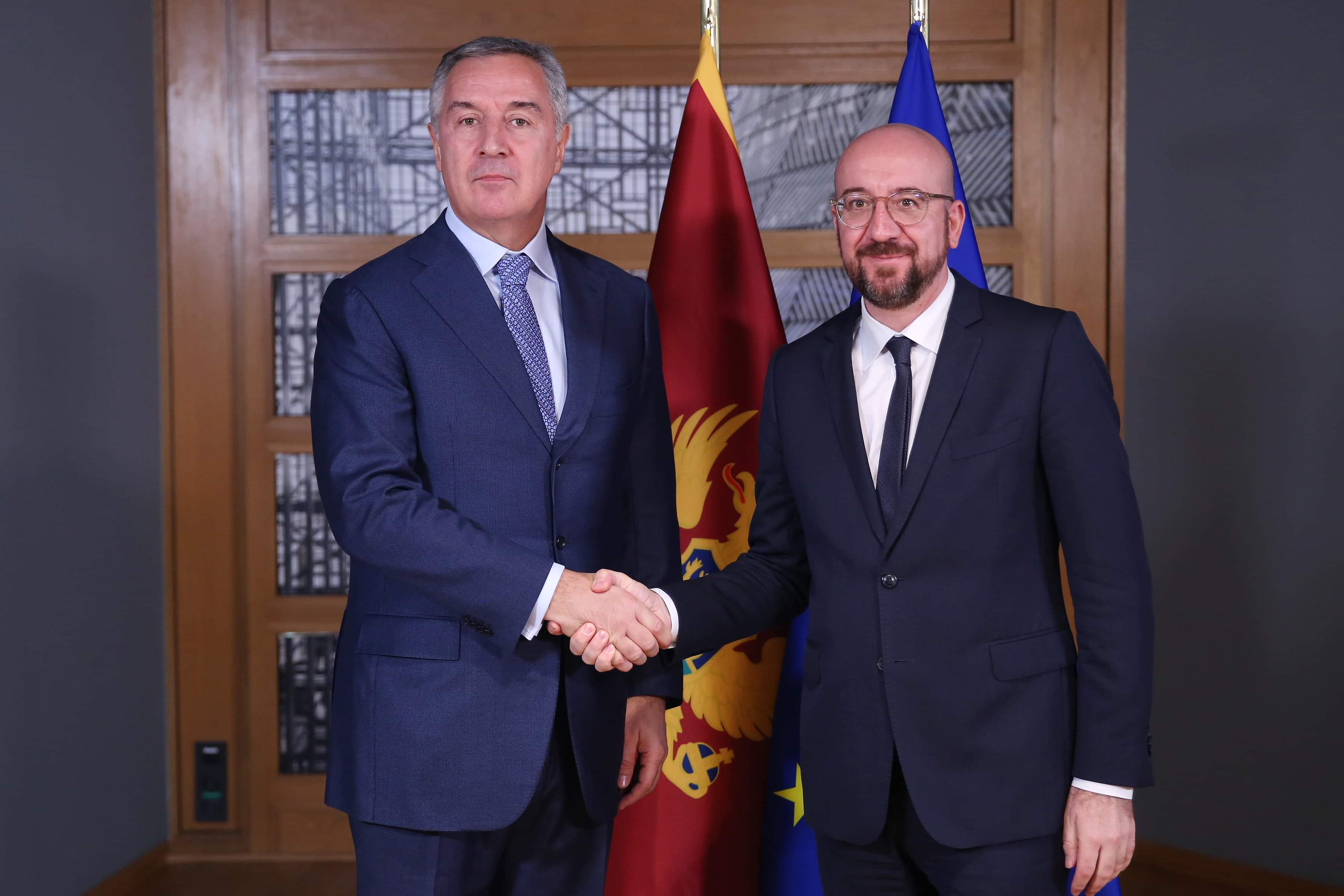 Montenegrin President Milo Đukanović met with European Council President Charles Michel in Brussels today.
"President Đukanović expressed satisfaction that Montenegro continues good relations and cooperation with the European Council. Montenegro is strongly encouraged by the messages of the new Brussels institutions, which also confirms, among other things, the clear coherence and consistency of the Council and Commission messages concerning the Western Balkans as part of Europe which should be introduced into the European value system. The president expressed his expectation that the March Council's decisions would confirm these expectations and give a new impetus to enlargement policy with the Zagreb Summit. The period of confusion over the EU – WB relationship has not passed without leaving consequences for the situation and relations in the region", according to a statement of Montenegro's Presidentcy.
According to Đukanović Office, he stressed that the WB has no viable alternative to European and Euro-Atlantic integration. In this context, it is necessary to seize the moment and things in the Balkans to bring it back under European control.
On the other hand, Montenegro remains a reliable EU ally in the region and a very committed promoter of European values.
The President of the European Council on his part, stressed the importance of an informal dinner with the leaders of the Western Balkans, which was held earlier, and thanked for the messages that the President of Montenegro had sent to EU officials on the occasion. He expressed his full agreement with the clearly identified areas that need to be the focus of attention for the future progress of the Western Balkans region – the rule of law, education, better connectivity and infrastructure. Understanding the complexity of the situation at the WB, Michel assessed that a shared success, in addition to dialogue, required a shared strategy.
The WB-EU relationship is one of the Council's priorities; a new role for EU political leadership and strong political will are present, and it is necessary to use the moment to take a decisive step towards the achievement of the goal, above all, of developing societies that share the values ​​of the rule of law, freedom and dignity of citizens.
A positive decision by the Council in March would be a strong signal and impetus for the new European institutions, thus creating the conditions and for a greater focus on a stronger investment strategy that is visible, concrete and tangible. President Michel also conveyed the expectation of a positive reaction from the Western Balkans leaders in terms of reducing misunderstandings, and stronger willingness, will and desire to make the WB region, with the support of Brussels, a step forward.
He also thanked Đukanović for detailed information on Montenegro's priorities. With regard to the current issue of the Freedom of Religion Act, of which Đukanović informed the High Representative in detail, he shared the belief that dialogue, a willingness to understand and resolve tensions peacefully were the best way to overcome them./ibna