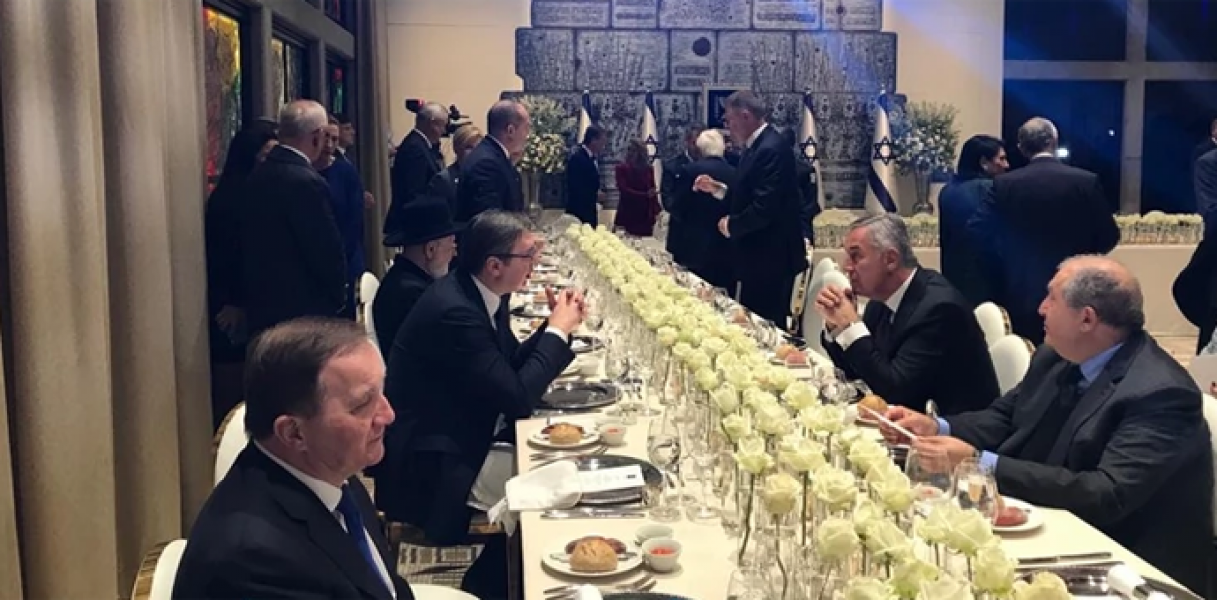 Montenegrin President Milo Đukanović and Serbian President Aleksandar Vučić concluded that their views on the Law on Freedom of Religion are very distant, but that this does not mean that they should not continue discussions on this topic, as well as on all other topics that are essential for mutual relations.
This was announced from the Cabinet of the President of Montenegro, after a meeting between Đukanović and Vučić in Israel last night, at a festive dinner in honour of the 5th World Holocaust Forum "Remembering the Holocaust – Fighting Anti-Semitism", hosted by Israeli President Reuven Rivlin for about forty world leaders.
"The main topic, as expected, was the recent adoption of the Law on Freedom of Religion in the Montenegrin Parliament, which, as Đukanović reiterated, regulates this matter in the spirit of European standards in our civil society, replacing a legal act almost half a century ago. It was concluded that the positions of the two presidents on this issue are very distant, and there is no common position, which does not mean that there is no need to continue discussions on this topic, as well as on all other issues that are important for mutual relations", according to the statement of the presidential office.
The conversation, is added, was very open, civilized and constructive, as it befits leaders of close states such as Serbia and Montenegro, although there were difficult topics on the agenda.
"Đukanović and Vučić agree that further efforts should be made by both sides to lower tensions and not allow antagonizing among our peoples and countries, which are, inter alia, linked to common European goals. This was particularly discussed, in the context of the obligations in the negotiation process with the EU and its joint action towards Brussels, as well as regional initiatives for better integration, in the interest of all countries in the region and faster progress in the European integration process", the statement says.
Đukanović also had brief meetings with a number of other senior officials at the dinner.
In addition to the host of the event, President Rivlin, Đukanović also met with Prime Minister Netanyahu, all leaders in the region, as well as Portuguese president Maresol Rebel de Sousa, Germany's Frank Walter Steinamayer, Cyprus' Nicos Anastasiades, Bulgaria's Rumen Radev, Greece Prokopis Pavlopoulos, and US House of Representatives Speaker Nancy Pelosi./ibna