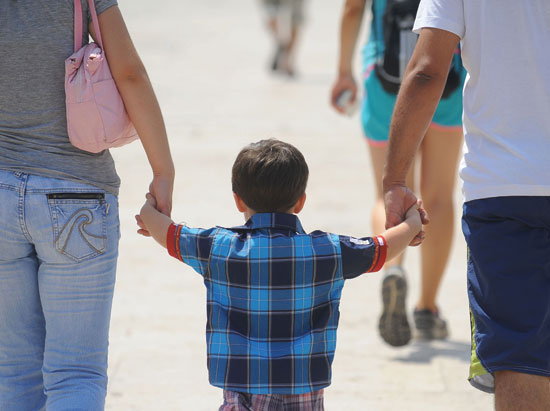 Skopje, June 17, 2014/Independent Balkan News Agency
By Naser Pajaziti
In the recent days, one of the main topics in the former Yugoslav Republic of Macedonia is the drop of birth rates among the Slav Macedonian population and a rise among Albanians.
Based on the data provided by the State Authority of Statistics, since 1948, the number of babies born among the Slav Macedonian community has dropped by 50%. Meanwhile, according to experts, last year, this drop was 4,4%.
On the other hand, birth rates among the Albanian community in FYR Macedonia have seen a growth by 3,3%.
Data show that the negative trend of birth rates among the Slav Macedonian community continues on an annual basis.
In 2013, there were 23.227 Macedonian babies born and almost the same figure was also registered in 2004 with 23.361 babies born.
Macedonian media say that in 10 years time, Macedonians will no longer be a majority in FYROM.
"Dnevnik" newspaper says that Macedonians are threatened neither by Greeks, nor by Albanians, but by the lack of desire to have children. Several portals have written that demographic conditions are a great ally of the so called "Great Albania".
Why is this happening?
Besides showing their concern about the falling birth rates and the constant drop in the Macedonian population, experts also offer their reasons as to why this is happening.
Jorde Jakimovski, head of the Institute for Legal, Social and Political Research in Skopje, says that young Macedonians must be cultivated to get married and start a family. "Among Macedonians, the decision to get married is taken late in life, as it's the decision to have children. Age has an impact in this stage, along with other factors, such as growing number of divorces", says Jakimovski.
Dr. Nikola Panov from the Faculty of Mathematics says that many young people have abandoned the country, but the government must create the necessary conditions for the creation of healthy families and encourage birth rates, especially among the Macedonian ethnics.
"Among the reasons that birth rates have fallen I  can mention economic reasons, but also the concentration of young people in urban centers, where they lead a dynamic and lonely life. The government must draft strategies and besides the subsidies that it offers for couples who give birth to their third child, it must also draft other projects", says Panov.
The falling trend of birth rates exists in regions known as Pelagonia, eastern region and that and the Vardar region, while the rising trend exists in the Polog region, in the western part of the country, where Albanians are concentrated.
Meanwhile, UNO office in Skopje is implementing the "Strategy for demographic development". According to the preliminary analyses of this strategy, in the next 40 years, the population is expected to fall from 2 million people in 2015 to 1,7 million people in 2050.
Macedonians and Albanians share different opinions
Citizens say that in circumstances when the country is going through an economic crisis, it's hard to survive, let alone to start a family with many members. Vangel M., a 40 year Macedonian says for IBNA that he has not been married for his personal reasons, but according to him, it's hard to survive with a family in this situation of crisis in FYROM.
"How can one survive with 30 Euros a month of social allowance? In case when a family has 4 or 5 members, the amount is 50 Euros. This shows that it's hard for one person to survive with this sum, let alone a whole family.  Under these circumstances, it's hard to provide the basic needs of a family", says Vangel M.
Albanian Astrit Saqipi, 35 years old from Skopje has three children and says that he has started his family in an early age and that he's happy with his family. "I have my beautiful family and I believe that three children are enough. But even among Albanian youngsters, there's a drop of birth rates, due to social economic difficulties", says Astrit.
Since 2008, the government in FYROM has approved a package to come to the aid of couples who give birth to a third or a fourth child.
For the third child, the state pays a monthly sum of 135 Euros for 15 years, while for the fourth child, the same amount, but the mother is given a pension for life.
Nevertheless, the amount for the fourth child was lifted due to difficulties in the budget. These subsidies given by the state, have also benefited Albanians and other minorities in FYR Macedonia. /ibna/