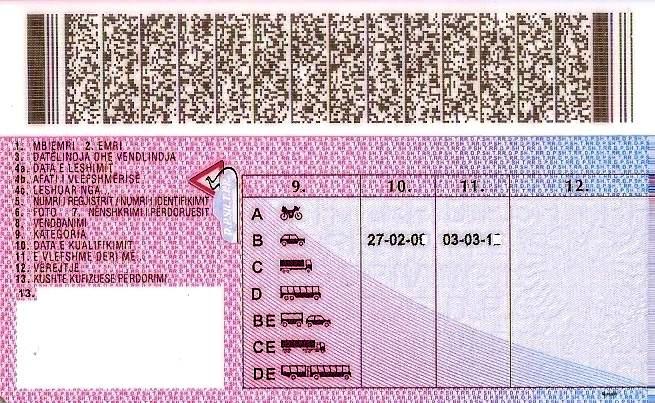 IBNA Special Report
Tirana, January 26, 2015/Independent Balkan News Agency
The point system for drivers' licenses which had been discussed for many years, finally enters into force in March of this year. This means that every offense will be accompanied not only with fines, but also with points on the license.
The amendment of the Road Code consists on the 20 point system in the driver's license. Every driver that loses these points, must undergo extra lessons in order to regain the lost points.
The most serious offense which leads to the removal of 15 points, is when the vehicle doesn't stop in case of an accident resulting in wounded people.
10 points or half of the total are removed when a car driver refuses to obey police call to stop. The same amount of points is lifted if the alcohol or drug test is refused.
According to the Rode Code, the most austere punishments will be applied to young drivers who have received their license in the past three years.
Minister of Transport and Infrastructure, Edmond Haxhinasto, says that the legal changes as far as the point system have been taken in order to offer a priority to the citizen. For the minister, the application of this system must also be accompanied by public awareness, in order for the citizens to understand what the consequences are in case they commit offenses.
Driving licenses are obtained without fully learning how to drive
On the other hand, the perceptions of the citizens for the abuses with driving licenses are many, but they have no basis.
There are frequent cases when boys and girls are equipped with drivers' licenses in a fictitious way. They undergo a course, which many people believe that it doesn't provide with normal driving skills. The learning of texts and road signals is neglected. Practice is often missing because some companies want to save on fuel.
What's more, several days are not seen as sufficient by many people in obtaining driving skills.
Meanwhile, tests often include corruption affairs and friendly relations. This way, the roads of the country often have people who have not gained the necessary skills and what's more, they do not have experience in driving. These factors are seen by experts of road circulation as the main causes of accidents in Albania.
Steps to eliminate negative perception
Minister Haxhinasto admits that there's a negative perception. Therefore, he talks about concrete steps that will be taken in order to eliminate the negative perception among citizens to obtain the driving license without the necessary formation.
"The system of information technology must be completed with the biometric registration for the theoretical test, which is a necessary phase in order to guarantee a safe and incorruptible testing system", says the minister.
"Citizens who believe that that can buy a driving license must understand that their life and that of other citizens is more important  and that these forms will be punished by us", says Haxhinasto.
Another measure which will be taken to stop abuses with driving licenses will consist of not allowing the commissioner to be present on the day that the learner is tested.
A psycho-physical test
Statistics on accidents taking place in the recent years in Albania, show that the severe psychological state of mind is an important factor. Psychologists say that psycho-physical causes are not only momentary ones, but also accumulated. Thus, there are people who often suffer from a constant state of stress or depression and they can reflect this by making mistakes while being on the wheel.
Based on this, Ministry of Transport has decided to add an extra test as a criteria to be issued with a driving license.
Minister Haxhinasto explains that the psycho-physical test has been included as a legal requirement in the Road Code approved amendments.
This psycho-physical test will be conducted in order to measure intelligence and psychological level of the persons who want to receive a driving license.
The testing will be made through a computer, through the use of special programs.
Haxhinasto has also demanded from respective directorates to prepare the program, as this test is considered to be an important element to guarantee every future driver on his skills. The experience of EU countries has shown that the application of this test has significantly lowered the number of accidents. /ibna/