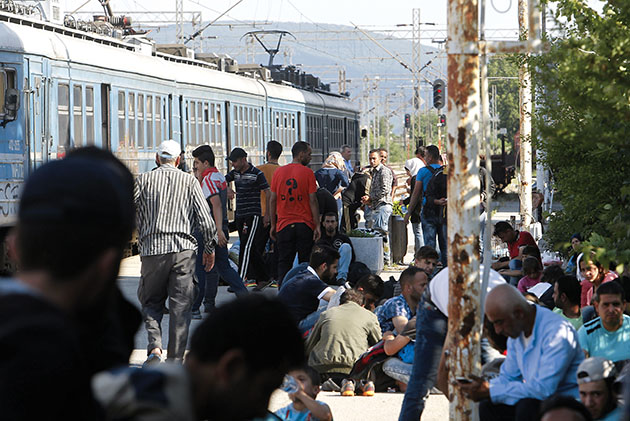 Belgrade, August 24, 2015/ Independent Balkan News Agency
By Milos Mitrovic
After huge crowds during the weekend, the reception center for the migrants in Presevo, near the border between Serbia and FYROM, was empty this morning. In the camp in Miratovac village there is still some 1,500 people. Last night 70 buses with the Middle East refugees arrived in Belgrade. Serbian Commissariat for the refugees expect the assistance from the international organizations.
On Sunday night more than 7,000 refugees entered Serbia from FYROM, figures of the UNHCR show. International Red Cross Federation expects the "dramatic increase" in number of refugees.
This morning there were no migrants in Presevo, but 1,500 refugees from Miratovac are to arrive in the town later today, according to correspondents.
On Sunday approximately 1,000 migrants have been registered. Subsequently, they went to Belgrade with objective to reach European countries, primarily Germany as their final destination.
The Red Cross teams as well as Commissariat for refugees and Organization for migrations, medical doctors and police are on alert 24 hours a day.
There is lack in food, water and toiletries supply, while Red Cross needs more vehicles for the assistance transportation. On Sunday, Serbian-Russian Humanitarian Center has provided 2,000 blankets. Russian Ambassador Alexander Chepurin has praised Serbian efforts in current crisis.
During the weekend, the most of migrants in Presevo were not eager to talk with journalists, Radio-television of Serbia (RTS) correspondent reports. Those who were ready to talk had similar stories.
"I just want to come to Belgrade, to have some rest. I wait for the papers and documents, and than I will go to Belgium, via Hungary", one of them told RTS.
Another one said that he has just came from FYROM and that Serbian army has helped the migrants to reach reception center. "Everybody were very polite with us, I was surprised. Serbia is nice, friendly country. I have tried to come to Greece from Turkey five times. My aim is to come to Germany".
In Belgrade and Subotica – a town on the border with Hungary – Center for Protection and Assistance to Asylum seekers has said it needs volunteers to cope with the crisis.