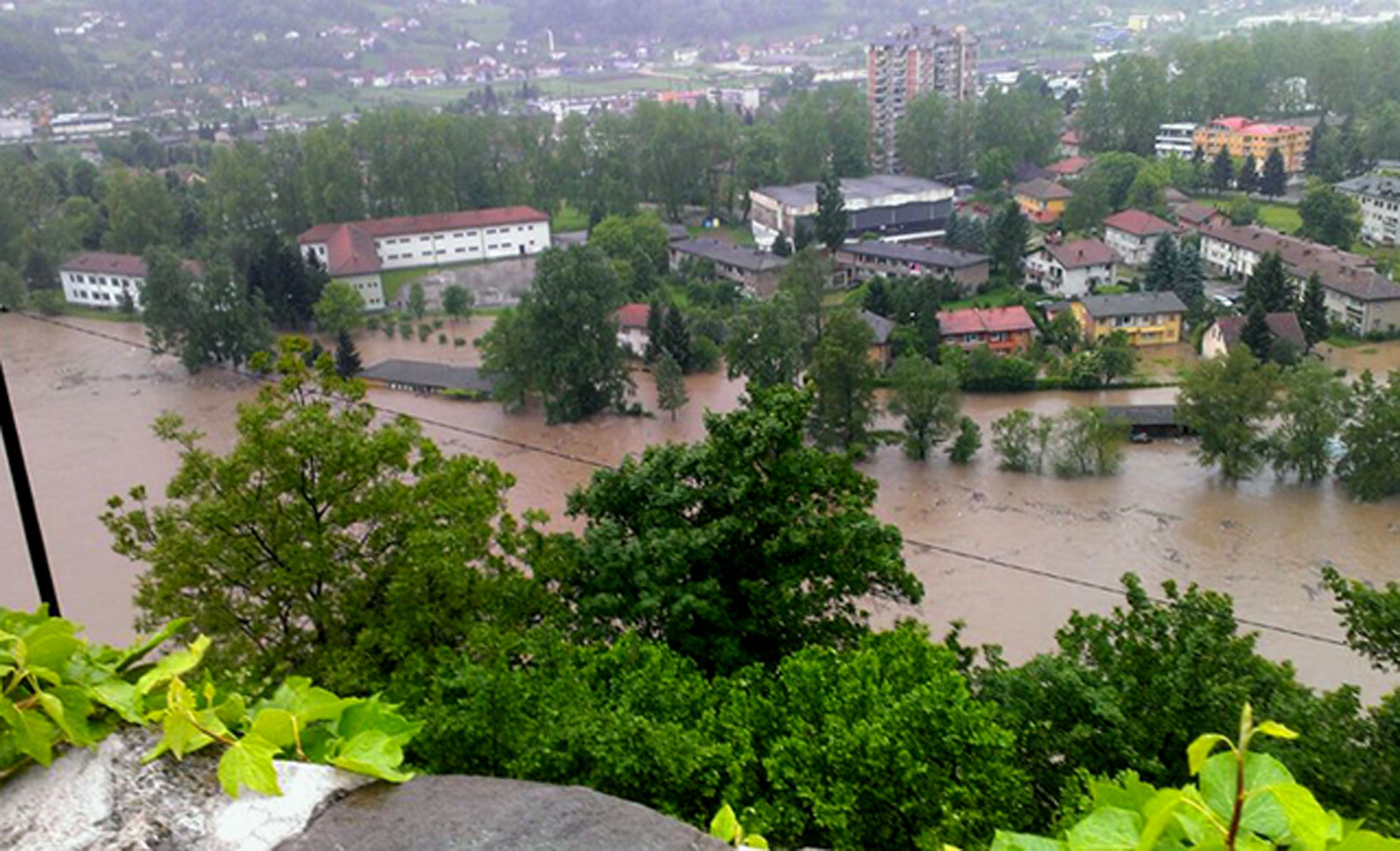 By Liljana Meshaj – Sarajevo
Due to the continuous rainfalls that started on Wednesday last week B&H is faced with the most catastrophic floods in history. Thousands of people have been affected by floods. As for 19 May, the water in B&H is declining, but the situation remains complex due to landslides, house collapsing and road damages.
The alarming situation continues in many B&H cities that have been affected by heavy floods. The situation is very critical in Zenica-Doboj Canton. Villages such as Šerići, Kolići, Smajići, Bistrica, Orahovica and Jasterbac are cuted of. Residents of these places are threatened by huge landslides after floods. One of the biggest problems is the difficulty to reach residents of these places.
The situation is very complex in cities such as Maglaj, Brčko, Orašje, Bijeljina, Gračanica, Gradačac, Prijedor, Bosanski Šamac, Tuzla, Doboj etc.
B&H Minister of Defence Zekerijah Osmić stated that currently the most vulnerable place is Bosanski Šamac, where the entire city is under the water. Doboj was two days ago the most affected city due to floods, where half of the city was under the water. According to the Mayor of Doboj Obren Petrović, the situation in Doboj today is improving.
Regarding the situation in Brčko the problem is caused by the Sava River embankment in Kopanica, near Orašje. The coordinated helicopters of B&H Armed Forces and Civil Protection started the action to close Sava embankment by putting steel heavy hedgehogs of 1.5 tons in the pierced spot and then inserting jumbo bags to prevent any further leak of the water.
So far, there has been reported over 30 dead people due to floods in areas such as Doboj, Maglaj, Zenica and Bijeljina, but the exact number is yet to be determined. Tens of thousands people were forced to leave their homes and thousands have completely lost their houses.  Over 13.000 km is under the water.
State and local authorities are engaged in ongoing evacuations efforts. Many rescuing actions have started to operate in the entire territory of B&H. B&H Armed Forces with helicopter operations are giving their best to assist the situation. EUFOR is providing aid to affected areas as well. The EU is providing coordinated assistance through the EU Civil Protection Mechanisms, which has been activated upon the request of Bosnia and Herzegovina due to the floods. So far, Slovenia, Austria, Luxembourg, the United Kingdom, Slovakia, Belgium and Germany have responded through the EU Civil Protection Mechanisms to the request of B&H, offering helicopters and motor boats to support the evacuation of residents and transportation of water, medicines and food. The assistance is underway and transportation costs are being co-financed by the European Commission.  UN agency in B&H has allocated 400.000 dollars as financial help to address humanitarian needs caused by extreme floods. In addition to this UN agency will provide assistance through ensuring food supplies, pumps, storage and transportation services, as well as humanitarian delivery.
The whole country is trying to help the affected areas with food, clothes, water, medicines and other necessary supplies. There are several centres in cities of B&H where donations can be collected for the vulnerable people. B&H Diaspora is contributing in donation actions as well.  Dozens of humanitarian aid trucks have so far entered B&H.