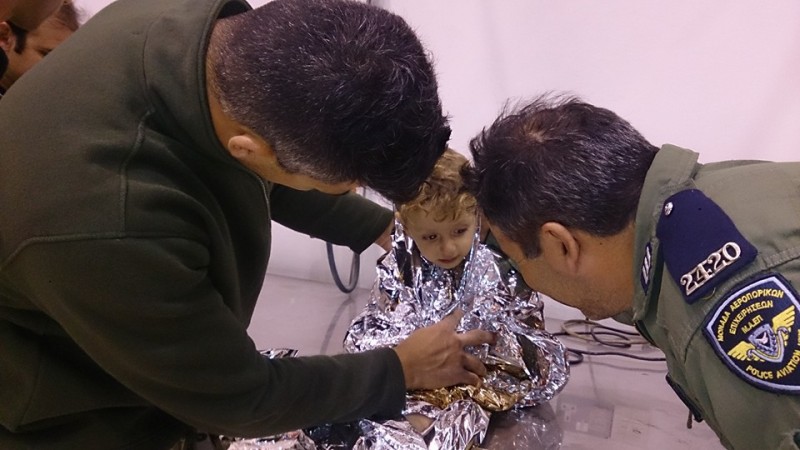 Nicosia, November 4, 2015/Independent Balkan News Agency
By Kyriacos Kyriacou
A total of 16 out of the 26 refugees rescued on Tuesday from freezing waters off the coast of Cape Greco, in the southeastern part of Cyprus were transferred to Larnaca and Famagusta hospitals.
Defence Minister Christoforos Fokaides, who followed the operation closely from the Search and Rescue Coordination Centre premises in Larnaca, told the media that the Republic`s competent authorities carried out a very difficult operation under extremely adverse weather conditions.
He noted that the people rescued told the police that they came from Lebanon from where they left on October 30 and that their destination was Greece, however during the journey their trafficker went aboard another boat and left them on the vessel trying to cope with the raging waves.
Most of the people rescued come from Tartus, Lebanon. They told the police that they had paid to their trafficker two thousand dollars for each adult and one thousand dollars for each child.
Meanwhile, three of the 26 people rescued were arrested by the police, as the other rescued migrants told the police that these are the captain, his aide and the man who collected the money from the refugees. The two Syrians and one Lebanese, will be presented on Wednesday before Famagusta District Court.
Cypruw President Nicos Anastasiades congratulated on Wednesday morning, in a message he posted on his Twitter account, members of the competent authorities teams who participated in the rescue operation. "Congratulations for your immediate and effective intervention. Nothing is more important than what you did," he noted, posting also a picture taken during the operation.
Six children and two women rescued last night were transferred to Larnaca General Hospital where they are being treated. Other eight adults, who were transferred to Larnaca hospital were treated and then taken to a hotel in Larnaca.
Meanwhile six children and a woman are treated in Famagusta General Hospital, in Paralimni district, while a man was transferred to a hotel.
A child was transferred from Famagusta hospital to Makarios hospital in Nicosia, since it was hydrated and suffered from hypothermia.
The Defence Ministry issued a statement on Wednesday morning saying that the Republic of Cyprus competent authorities implemented "NEARCHOS" National Search and Rescue Plan in response to an urgent call on Tuesday afternoon, at 1635 local time, received by Larnaca Search and Rescue Coordination Centre to rescue people aboard a small vessel that was in danger in an unspecified sea area. A helicopter of the Air Force Command located the small vessel at the east side of Cape Greco.
As it is noted a total of 26 individuals were rescued among which 13 children. The rescue operation was carried out by Police and National Guard units. Moreover German torpedo boat HYANE that was patrolling the area, in the framework of UNIFIL operation, responded to a call by the Search and Rescue Coordination Centre to search for other people that might had fallen into the sea, without however locating any other individual.
As it is noted, the operation was carried out ten minutes after 0100 local time and the whole issue is being addressed by the Republic of Cyprus competent authorities according to "NAUCRATIS" plan.