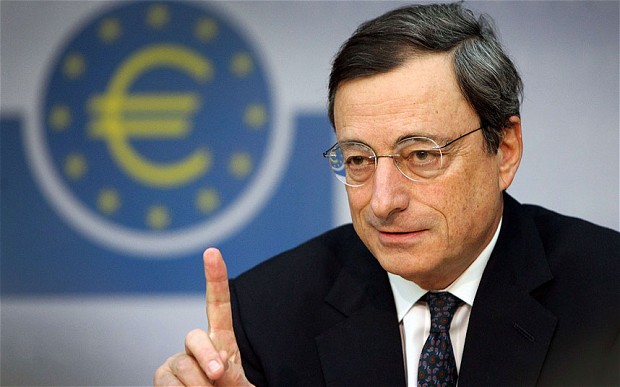 Athens, June 16, 2015/ Independent Balkan News Agency
By Spiros Sideris
The situation in Greece is dramatic, said Monday the head of the European Central Bank, Mario Draghi, as part of his scheduled hearing in the European Parliament.
He also emphasized that the ECB is ready to face a Greek bankruptcy and has all the tools to manage it, adding that the ECB operates under the rules and does not create its own rules, to conclude that the institution cannot take up a monetary funding.
The ECB is fulfilling its mandate to Greece, Draghi stressed.
"The ECB has provided liquidity amounting to EUR 118 billion to Greek banks, or about 66% of the GDP", Draghi stressed, who unsurprisingly received many questions on the Greek issue.
He also noted that he would monitor the situation of the banks and that there is no fixed limit to ELA. The ECB will continue to provide liquidity to Greek banks if they are solvent and with adequate pledges, Draghi pointed out. He emphasized that the Board of Directors will review the Treasury NIFs issuance limit of the Greek State, since there is no credible completion of the ongoing assessment.
"There is need for a strong and comprehensive agreement with Greece and very soon. A comprehensive agreement is in the interest of the entire Eurozone. The ball is in the Greek court", said the head of the ECB.
Nowotny: "A Grexit should be avoided"
On the other hand, Ewald Nowotny, the head of the Austrian Central Bank and Board member of the European Central Bank, admitted today that no calculations have been done regarding the possibility of Greece exiting the eurozone.
Asked about the costs of the so-called Grexit, Nowotny told reporters: "Of course any responsible institution and the central banks also have to make some sort of calculations on the impact… but at this time we must make efforts to avoid such a situation and not talk about it overmuch".
Pressed to answer the question of what it would cost Greece's exit from the single currency to Austria, Nowotny simply said: "We have the numbers, but I think that this is not where we want to focus".
Nowotny also said it is too early to discuss the reduction of the extraordinary refinancing of Greek banks and expressed concern at the failure so far of negotiations between Greece and its creditors.
Praet: No comments for Greece's exit
Also, ECB chief economist Peter Praet told reporters at the same seminar of economic interest in Vienna that he does not want to make any comments on a possible exit of Greece from the eurozone, which as he said is a political issue.
He also added that "one gets used to a crisis management environment and in an environment of preparation for crisis management. We have been doing exercises for years, so yes, we have experience, whatever the situation we have experience – unfortunately I have to add – for many years now. We have experience in many difficult situations", he said.