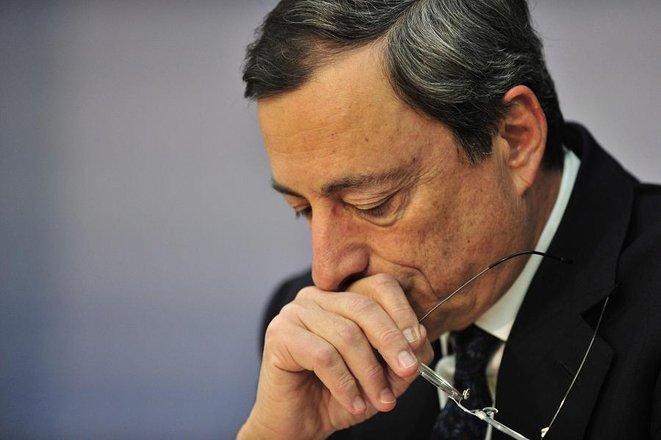 Athens, March 6, 2015/ Independent Balkan News Agency
By Spiros Sideris
President of the European Central Bank (ECB) Mario Draghi ruled out, at this stage, the Bank to readmit as collateral the Greek bonds to raise liquidity.
Speaking at a press conference in Nicosia, Draghi pleaded the EU Treaty and in particular Article 123 on monetary financing.
"The European Central Bank has lent to Greece 100 billion euros to date, an amount that reached from 50 to 100 in the last two months and which corresponds to 68% of the country's GDP, the highest in the whole eurozone", said Mario Draghi. In this sense, "one may say that the ECB is the Central Bank of Greece, however, it is also the Central Bank of all of the other countries", he noted.
Regarding buying Greek bonds, he said the ECB is the first that wishes to be able to finance the Greek economy, given the conditions are met, namely that there is a successful completion of the country's review soon.
Replying to a question, Draghi said that Greek banks are solvent, while noting that the most important thing right now is to maintain the reliability and robustness of the Greek banking system. The ECB, he said, is the first to want to restart funding for the Greek economy, as long as there are the right conditions. Therefore, he suggested, reforms must take place successfully and fast.
"The ECB, at the moment, cannot buy Greek bonds. The programme does not provide for the purchase of private bonds. We can only buy investment bonds, which, however, is below the threshold. Hence, there must be a reboot. And third, there is a limit of 33% per bond issuer. Once Greece repay the bonds in June or August, then we will be able to restore the exception that has been lifted and be able to buy Greek bonds through the new program".
Draghi also said that an exception was placed "at a time when there were reasonable estimates for a successful completion of the program review. In other words, the program functioned normally". We have the rule, he added, that "we cannot accept as collateral bonds that are below a certain threshold and the Greek bonds were and are below this threshold".
Clearly, he said, in mid-February, the program did not follow its path. "It was an estimate expressed by the government", he said.
Draghi expressed readiness to restore the exemption, when it is possible to take place "a potential positive assessment of the review".
Finally, he stated that "the background will be different if there is an agreement-contract in the Eurogroup".