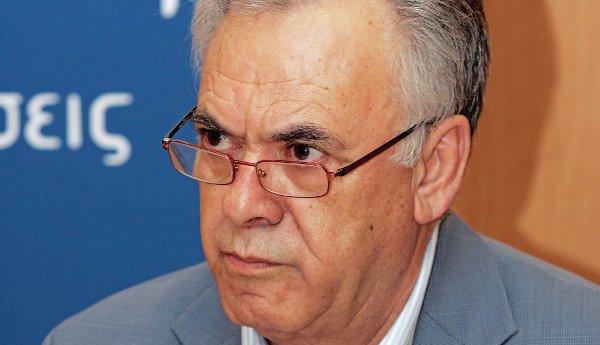 Athens, August 3, 2015/ Independent Balkan News Agency
By Spiros Sideris
Yannis Dragasakis attacks the dissidents within SYRIZA, noting that any unilateral changes by the Greek government, can bring the Grexit back to the table.
"Any unilateral change of the agreed procedures could open the Pandora's box", says the deputy prime minister Yannis Dragasakis in an interview with the newspaper Realnews.
He adds that "the government has not received any specific request for a derogation of the agreed at the summit".
The risk of a Grexit is real. However, it will be reduced drastically with the adoption of the Agreement and in particular the its completion, which will make the debt sustainable and serviceable in the long run".
Dragasakis presents a "roadmap" for the lifting of capital controls and states that "the restrictions will continue to relax with every passing day.
The complete abolition of restrictions on banking transactions, however, coincides largely with the "road map" to restore confidence in the credit system and the economic outlook in general".
He stresses that "deposits over € 100,000 are protected and if this protection is removed, there will be an irreparable crisis of confidence to credit institutions not only in Greece but also in Europe. Each deposit haircut will be a punishment for individuals and businesses who kept their money in the country, compared to those who keep their money and their accounts abroad", and adds that "the banks consolidation issue refers to the subsidiaries of Greek banks abroad. The issue must move forward and already steps have been taken in this direction. For the interior of the country such an issue has been raised by either side. Besides the Greek banking system is considered overconcentrated".
The deputy prime minister believes that the recession, without any compensatory measures may cumulatively reach 4% -5%, depending on international developments and will culminate in the next 6-8 months. From the second half of 2016 there could be signs of recovery".
Asked how could the recession be reduced, he says, "with the adoption of the Agreement, the recapitalization of banks, regulation of debt will reduce uncertainty".
Referring to the statements by Yianis Varoufakis, Dragasakis notes that "if someone wants to take the country from the euro, he has but to accept the proposals of Mr. Schaeuble or the Eurogroup". He points out that "when the time comes, the government has a lot to say about friends and enemies, with facts".
Finally, commenting on developments in SYRIZA, Dragasakis believes that "the party is not in a decomposition or rupture process, but rather in a course for its recomposition and substantial reinvention. The meeting of the central committee showed that there are people who feel first CMP, Platform and then SYRIZA. Some of these people might leave SYRIZA, although no one is driving them out".