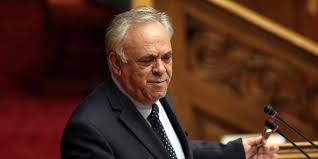 Athens, December 7, 2015/Independent Balkan News Agency
By Spiros Sideris
"The new recapitalisation comes to correct the mistakes and prevent the risks that have been created by earlier recapitalisations. The rhetoric of inquiry committees does not constitute a threat to us, but it is the duty and obligation of the House, because as I've said before the dossier of banks has not yet opened", deputy prime minister Yannis Dragasakis said.
Regarding the last recapitalisation, Dragasakis said it was successful because it took place despite the pressures to be postponed for 2016, which would mean "haircut" to deposits, while he called the accusations of the opposition on the dehellenisation of bank "screams that have no basis…", arguing that "26% of Piraeus is owned by the FSF and 40% by domestic investors. 41% of the National Bank is owned by the FSF and 12% by Greek investors, and in Alpha Bank and Eurobank the public is involved in their administrations with a veto right…", recognizing that these two banks passed into foreign Funds.
Now the objectives of the government in the banking sector are:
-the completion of the institutional framework for the "red" loans.
-the assessment of the administrations of each bank, not only of the individuals but also their structures.
-the introduction of a transparency system in each bank so that it will be posted who takes loans, advertisements etc.
-the strengthening of liquidity of the economy depends on the ECB, but also the banks themselves.
-the consolidation of banks. In 2016 the alternative banking system for small businesses, innovative initiatives and local entrepreneurship will become visible", the vice president said.
Not to a universal cover-up, Dragasakis said. "Historically, ecumenical coalition are formed when there is no strong power pole. But today SYRIZA is a pole of stability and transformation of society. The discussion rather aims at universal camouflage and to prevent the ruptures that need to take place with the 'interests'", he said in his speech.
Dragasakis described what is the "parallel programme" of Syriza, which will be implemented in 2016: "The parallel programme are what PASOK and ND did not do when they ruled. They are changes that in other countries were made by bourgeois governments, by social democratic, even by right-wing governments. It is the cadastre, the asset declaration, the inequalities in the tax system and more. They are the things KKE used to call urban modernisations that we did not oppose as Left. These are the things we will do, with cuts and lacerations with a society that will have man at its centre. I would recommend a little patience to become clearer".
Dragasakis gave the Roadmap to Recovery: Early next year will be the first assessment, followed by a debate, and we believe an agreement on the debt. The capital controls will be removed in the first months of 2016 and we expect the ECB to take the required measures for the financing of the economy. "It is recognised that after mid-2016 will go into economic recovery", the deputy prime minister said.