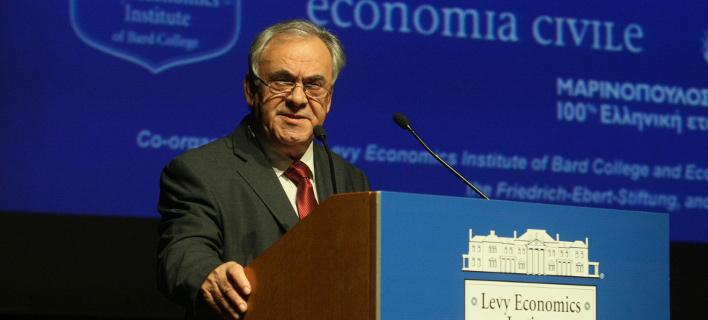 By Spiros Sideris – Athens
A coalition government with SYRIZA at its core can succeed if it governs together with the Greek people, said the deputy of the party and vice president of the House, Giannis Dragasakis, speaking at a conference organized in Athens by the Levy Institute.
"People should come to the fore and the role of citizens should be strengthened", said the Vice President of the House, and added that the Left should have a leading role in this process.
Dragasakis noted that "SYRIZA is a point of reference in Europe" and made the assessment that very soon it won't be alone in this difficult but promising path.
As said, the strategy to get out of the crisis must not be the national retreat and introversion, but the contact at international level with the people facing the same problems.
Moreover, he said that SYRIZA and its policy gives hope, and that early elections are not a derailment, but a democratic way out.
Dragasakis also stressed the need: to cancel the Memorandums, to make the necessary reforms and to have a real negotiation with the European Union.
Regarding the first point, Dragasakis noted that it should be done, not only because of its social consequences, but also because they were adopted in violation of democratic principles both the country's and the EU's.
As he said "they did not even succeed in their legalisation, since they were imposed by blackmail, without excusing those who voted them".
In addition, Dragasakis noted that there is a big debate whether the Memorandum was not just an economic program, but many believe that it functioned as a weapon of mass destruction of rights and development prospects.
Referring to SYRIZA's program, Dragasakis noted that it is not simply an anti-memorandum program but aims to consolidate another development model.
As he said, the main objectives of the program is to tackle unemployment, the institutional reconstruction of the state and society (through radical cuts and reforms) and the promotion of another productive model. Moreover, Dragasakis pointed the need for European policies (other than national policies) to address the problems faced by European countries.