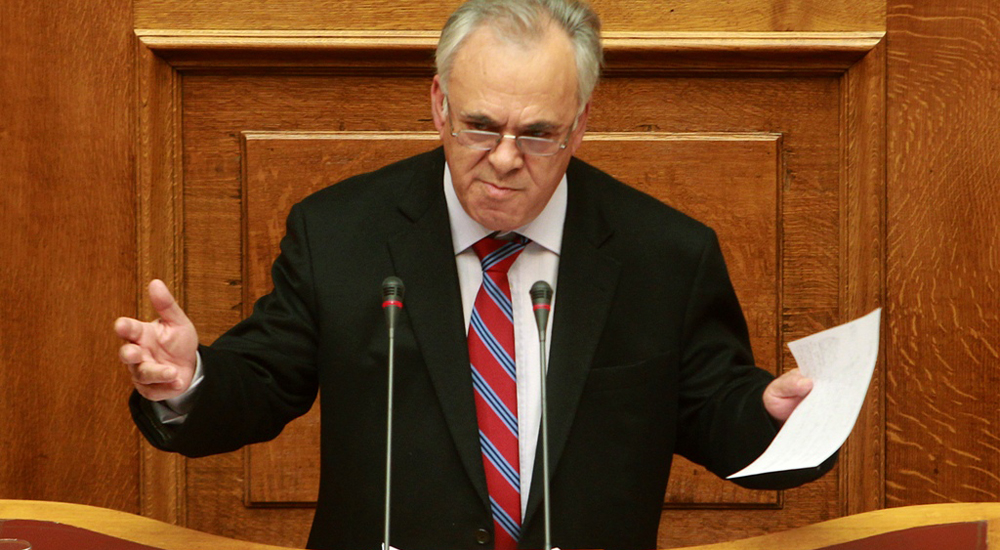 Athens, September 14, 2016/Independent Balkan News Agency
By  Spiros Sideris
His estimate that there cannot be a great impairment of the greek debt – since as he explained, our lenders are likewise indebted – expressed the Deputy Prime Minister Yannis Dragasakis, adding that there is need for an EU-wide solution to address all the countries.
In his intervention to the Commission's Finance Subcommittee investigating the issue of impairment of Greek debt, he stressed the need for a constitutional provision for the amount of debt, so that no government can exceed it.
"Even if we achieve the best solution we have the particularity that our lenders are themselves obliged. Therefore, I do not think it is easy to have a great impairment of debt without the other countries that are facing the same problem receive a similar treatment. As such, we need to get to a better level and jointly try to tackle the problem, in order to have a European solution that will concern all", he said.
"The debt problem does not coincide with the time of a government. We seek solutions through negotiations. There is a decision of the Eurogroup with medium-term measures and how it can be tackled in the long-term", he said and continued:
"Even if very favorable things come, we are talking about a negotiation process after 2018. That is why the horizon must be left open. The greek debt adjustment is empted for debt solution in other countries. There is global interest".
Deputy Prime Minister gave emphasis to the importance of functioning of the Committee and the consensus that must be reached among the parties, stating:
"The Parliament should monitor developments actively rather than passively and must contribute to a long-term policy. This is done through this committee that must act as a hub to make our positions better understood, with the requested documentation. That is why scientists, organizations, and institutions that can help in this direction should be encouraged to express their opinion, without discrimination. Perhaps Mr Tsakalotos and Mr Chouliarakis should be called to have a complete briefing.
Mr Dragasakis even talked about the need for education and self-awareness as to the causes that created the debt and as to how to tackle the problem, noting:
"We need to balance the internal and external causes. The voices that say that only the outside are to blame and that we have no responsibility. This reproduces the problem, it does not solve it, and so it is a matter of education. I do not think the solution lies with the sanctification or demonization of the fiscal problem. When you borrow there is probably a problem. Should therefore a limit on the amount of debt be included in the constitutional reform? Other countries, such as Ecuador have done it. There can't be indefinite borrowing".