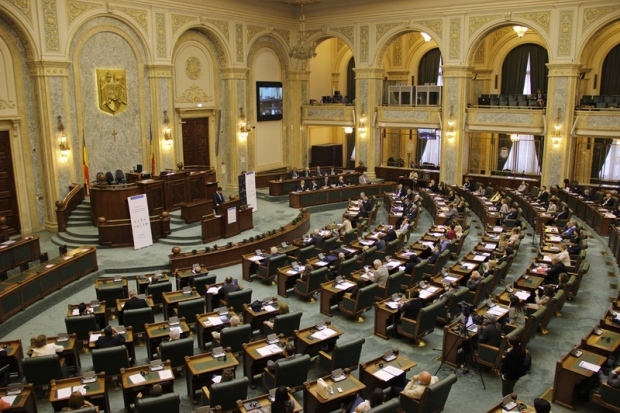 The draft bill on pardon tacitly passed the Senate in the form agreed by Liviu Dragnea and Călin Popescu Tăriceanu and without debate and voting, because the legal committee's was not submitted in due time, Liviu Dragnea, the Chamber of Deputies speaker, said on Tuesday.
Asked why there was no vote in the Senate, Dragnea said: "Because the committee hasn't submitted the report until the deadline for tacit approval, they haven't agreed on a final form. That's it."
At the same time, he was asked whether PSD and ALDE have the majority in the legal committee, the Social-democrat leader replied: "Do we ditch the dead? The law has been sent to the Chamber of Deputies."
On Tuesday expired the deadline by which the draft bill on pardon should have been debated and approved by the Senate. The leadership of the Senate refused to put the draft bill on the agenda on Monday, on the grounds that the additional report of the legal committee has not yet been submitted.
Therefore, the draft is considered adopted in the form received from the government, without taking into account the amendments from the MPs. In fact, PSD's Liviu Dragnea and ALDE's Călin Popescu Tăriceanu have pleaded for the adoption in the form of the government since the draft was sent back to the committee, digi24.ro informs. The same source says that the draft bill in the form submitted by former Justice Minister Florin Iordache would lead to pardoning more people.
In Monday's sitting of the Senate's Standing Bureau, the representatives of the Save Romania Union (USR) group asked for the introduction of the draft on the agenda in order to avoid tacit adoption by exceeding the deadline of the constitutional term of debate and adoption in the first noticed chamber. The USR request was rejected.
"I have not received the report from the Legal committee. Without report, it cannot be on the plenary agenda," said Senate Speaker Calin Popescu Tariceanu. He also said that the "main discussion and decision on the agenda" of the Standing Bureau of the Senate on Monday was the introduction of the draft unitary wage law for debates in the plenum.
The draft pardon law was returned to the Legal committee on May 8, and the deadline for tacit adoption was Tuesday, May 23. Both Liviu Dragnea and Calin Popescu Tariceanu have repeatedly pleaded for the adoption of the draft in the form from the government.
In the form of the legal committee, unlike the original form from government, it was explicitly stated that pardon does not apply to suspended sentences, and the offense of perjury was exempt from pardon./IBNA
Source: romaniajournal.ro