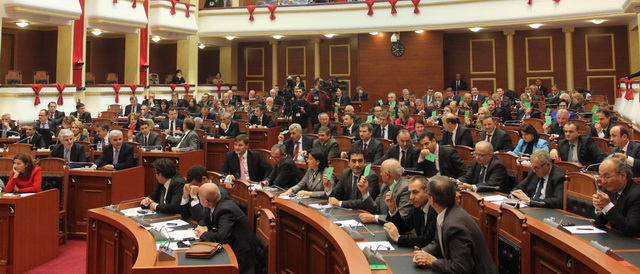 Tirana, May 30, 2013
After many months of debate, parliament has passed today the three votes that condition the EU candidate status of the country.
The bill on Civil Servants, on the Supreme Court and Parliamentary Reform were voted in Parliament after majority and opposition joined votes. The opposition conditioned the voting with the laws being enacted in October.
The bill for the Supreme Court received 108 votes in favor and one abstain, the bill on Civil Servant received 105 votes in favor and 2 abstains, whereas the Parliamentary Reform received 108 votes in favor.
Earlier, Prime Minister Berisha accused the leader of the Socialist Party of blocking the three laws for a period of 235 days.
Meanwhile, socialists said that the vote is being given now that the situation in the district of Fier was resolved. /ibna/