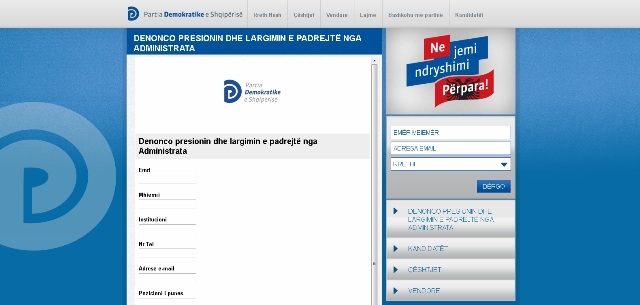 Tirana, September 25, 2013
Democratic Party has accused the government for cleansing in the public administration.
DP spokeswoman, Laura Vorpsi declared today that the political revenge of the new majority, pressure and the dismissals of civil servants through the old method of the war of classes are dominating in every office of the state administration.
"As of today, the Democratic Party has launched its new official portal 'Denounce the pressure and dismissals from administration', which will be accessible 24 hours a day. In this portal, every civil servant will receive free counseling for all the rights of employees and will be able to denounce every case of political pressure to resign from duty and unfair dismissal from administration. Democratic Party calls upon Edi Rama to stop the pressure which is being exerted on the administration and the revenge for its cleansing", said Vorpsi.
Democratic Party invited all civil servants to denounce cases of pressure or dismissals and guarantees them that it will take all measures to bring to justice all those who use power to violate the rights of civil servants. /ibna/