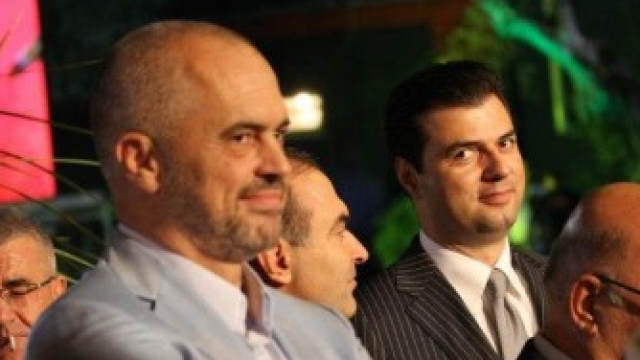 Tirana, 8 April 2016/Independent Balkan News Agency
By Edison Kurani
In Albania, the main leaders of the Albanian politics, PM Edi Rama and leader of opposition, Lulzim Basha have been involved in a debate in distance on the US presidential future.
Prime Minister Edi Rama stirred international politics by publicly declaring himself against the candidacy of Donald Trump, who seems that will be a possible candidate for president in the USA.
Mr. Rama considers Mr. Trump as a bad thing not only for America. He suggests that the election of Mr. Trump as US president, consists of a serious threat for Albanian-American relations.
Meanwhile, leader of opposition uses irony against Rama calling him a global leader who has decided to teach Americans how to elect their president.
Rama: God forbid Trump from becoming the President of USA
Prime Minister Edi Rama prays for the Republican candidate for US president, Donald Trump, not to be elected in this post. "God forbid Trump from being elected the US president, because this would cause great damages to America and of course, it would be a real threat for Albanian-American relations", Rama said.
The head of the Albanian government says that if Trump is elected US president, then diplomatic relations between Albania and USA will deteriorate.
"Donald Trump is a real threat for the USA and this is of course a threat for Albanian-American relations too", Mr. Rama underlines.
Basha: Rama is teaching Americans how to elect their President
Mr. Rama's public declaration is considered to be one of the rarest ones that the head of a government has done in a region and beyond. Some analysts believe that it is very courageous for countries such as Albania, which is known to be a very pro American country, to question and even to refuse to recognize as president a candidate elected by the vote of the Americans.
On the other hand, the opposition considers the declaration made by Mr. Rama as an unacceptable intervention in the internal affairs of the USA.
The democrat leader, Lulzim Basha calls Rama, with a touch of irony, a global leader and adds: "The global leader has finally decided to teach Americans on how to elect their president. This is something that he wants to do now, as soon as possible. After excelling in Albania by bringing a deep crisis and poverty, by installing the criminal-corruptive oligarchy, by competing with Trump for personal wealth, after breaching the law and Constitution every day, Rama now has a recipe for the US presidential elections", Mr. Basha said.
The leader of opposition says that the arrogance and delirium do have a limit, but he adds that "the world leader is showing that for him, these disorders have no limits".
"Americans often find a 'Borat' to spend a few hours in front of the screen or cinema. This time, directors do not need to look for him a lot. The character has offered himself", Mr. Basha says. /ibna/