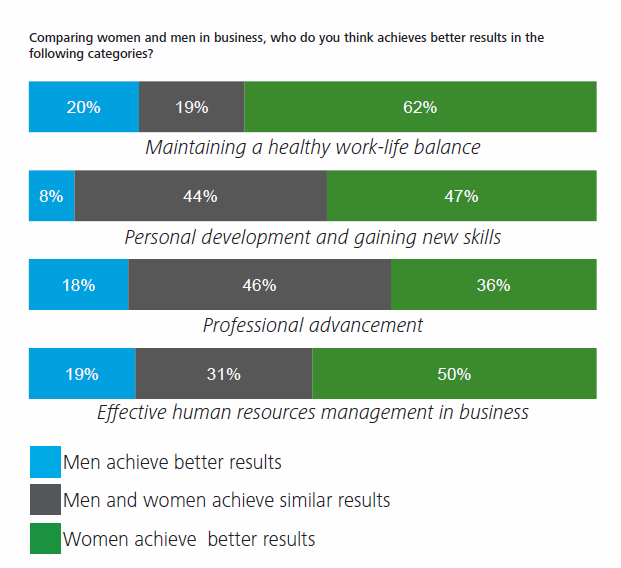 IBNA Special Report: Deloitte's poll: Albanian women are gaining territory in enterprise. The poll with over 200 senior business executives in the country reveals the role of the woman in leading the enterprises of the country, challenges and issues of business leadership
Tirana, October 28, 2014/Independent Balkan News Agency
By Edison Kurani
Albanian society continues to consider the man as a stronger leader and with better leadership skills  for the enterprise as opposed to women.
A poll carried out by Deloitte through interviews with high profile executives of domestic and foreign businesses operating in Albania, reveals the findings in relation to the position of women in business. The poll also identifies the challenges or strengths of men and women in business, who have become successful leaders and if quotas for the participation of women in business should apply.
The poll
Deloitte is a UK company that provides services in particular geographic areas and is subject to the laws and professional regulations of the particular countries in which it operates. This institution has carried out a poll in Albania. The poll found that 47% of respondents declared that men are more capable of facing the challenges of enterprise. Meanwhile, 47% believe that women are more capable of taking decisions under stress.
The poll also found that among women, there's a good balance between work and family, but on the other hand, 41% of respondents said that women have better analytical abilities and are characterized by honesty, in contrast to men, who in the context of honesty, the poll found that they are less of it.
Maksim Caslli, Associate Partner of Deloitte Albania and Kosovo, says that the poll shows that Albanian society is in favor of diversity, nevertheless, key positions are still occupied by men and women continue to be less paid.
207 C-level (CEO, CFO) took part in the survey. These executives are active within multinational and local companies. The survey was conducted in two stages; the first was an online questionnaire and the second focused on individual interviews with top level executives.
Executives invited to participate in the survey were selected from a list of 500 biggest companies in the market.
It is clear, from our survey and from other studies that women and men have complementary management styles. The best solution, not only for the businesses but for all the society would be enhancement of diversity and contribution from both genders based on talents and meritocracy, – said Caslli.
"With years we have seen a change in the culture and viewpoint of the role of woman in the society, and a wider participation of women in business. They are equally successful as men", – he said.
Some of the main findings of the survey:
Leadership in business
According to this survey almost 66.4 % of the respondents perceive women in leading positions as highly professional, 40% believe women have good analytic skills, 40.5 % perceive honesty as main characteristic. Women are also more consistent (31.3%) and more engaged (36.1%). However women at the top in the Albanian society tend to score less well in the area of decision making (13.6 %) self-confidence (23.6%) and strategic planning skills (20.2%). Only one third of the respondents consider women as having leadership skills.
According to the survey 62.4 % of respondents selected leadership skills as the most important quality of men holding executive positions. Executive men are perceived as leaders with strong self-confidence (50.8%), comfortable making decision (60.1%), while being effective in negotiations (37.7%). Men in executive position tend to score low on honesty (4.2%) communication skills (17.9%) and innovation (12.9%),
Strong points in business
Deloitte's survey portrays women as keen on continuously investing in themselves in terms of knowledge and professional expertise. 47% of the respondents said that women achieve better results in their personal development and in gaining new skills. This is also reflected in women's professional advancement when 36% of them say women accomplish better performance.
Survey strongly recognizes women have this special gift that can make a real difference in the workplace. They are more successful than men in maintaining a healthy work life balance, as 62% of executives confirm women achieve better results compared to men.
When asked to compare men and women in business and who achieves better results, 47 % of respondents indicated that men achieve better results when facing business challenges.  They are more efficient at decision-making under stress (46%) and they are most capable at battling for company's position in competing conditions (41%).According to the survey, the difference between men and women narrows down when it comes to achievement of financial results such as sales, profit and implementation of strategic development.
Pay Gap and other challenges
27% of respondents say women are quite often less paid that men while 64% consider this as a well-known phenomenon.  While not completely unrelated, 67% of the respondents admit that women are more likely to be made redundant in a reduction of personnel situation. According to this survey, promotion within the organizations is another challenge for females in the workplace as 19 % think women are quite often less frequently promoted.
Consensus for quotas in business
When asked if Albania should initiate legislative steps toward quotas in business, 48 % responded "definitely yes" to imposing of a regulation similar to some Western European countries putting quotas for the participation of women in company boards. This consensus is important to show that there is good will to encourage strengthening of woman position and increase of diversity in business in Albania. /ibna/