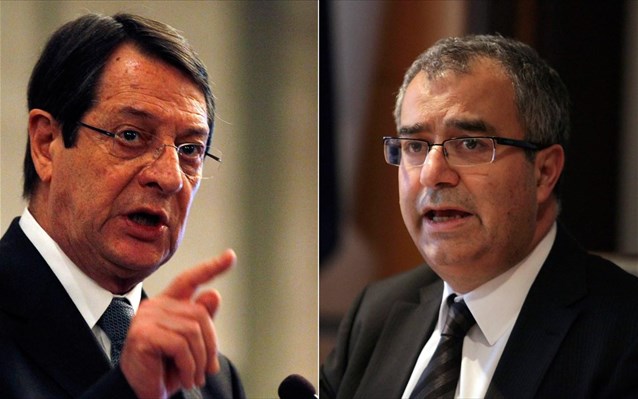 By Christos Meliopoulos – Nicosia
The increasingly bitter rift between the President of the Republic of Cyprus Nicos Anastasiades and the country's Central Bank governor Panicos Demetriades threatens to derail the significant effort undertaken to bring the economy back on a stable footing.
The public mediated exchange of accusations and insults has cast a shadow over recent optimism both on the economic front and regarding the progress towards restarting the negotiations for reuniting the divided island.
Such complete and utter breakdown of the relationship between the individuals holding these specific posts is not new to Cyprus. Many commentators have said they consider the mutual mistrust between former holders, Demetres Christofias and Athanasios Orphanides to be a contributing factor to the collapse of the economy and most were aware of the dislike between their respective successors. But the heights of their enmity has left Cypriots and Europeans astounded and concerned.
In his recent lightning trip to London for meetings mostly with representatives of the world's biggest financial papers, Finance Minister Georgiades was asked about his thoughts on the well established war between Anastasiades and Demetriades. He managed to avoid answering the question, even to downgrade the issue.
But the accusation over what Alvarez & Marsal, consultants in the bailout exercise of Cyprus, had agreed as a fee with the governor seems to be bringing the issue to the boil. Having had members of his board doubting the expedience of his remaining in charge of the bank, Mr Demetriades would seem destined to make the first backward step.
Support by his "boss" Mario Draghi would eventually probably not count for much in the island's tense reality. Nor would the neutral position adopted by the world's media that have dealt with the case.
But should it be proved that such an agreement is not any kind of wrongdoing on behalf of Mr Demetriades, then his authority could be strengthened since he would be regarded as wrongfully persecuted.
In such circumstances there seems to be no way out of this sly crisis. Unless both men realise that there are no winners in this battle, they will lose sight of the fact there is only one loser – the stability of the financial system of Cyprus and therefore the country's wider interests.