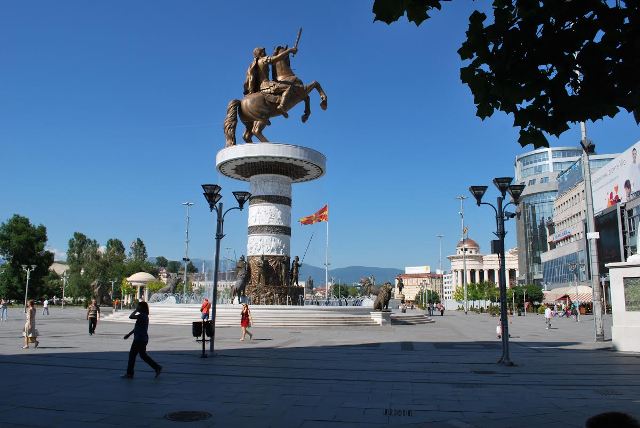 Skopje, 8 June 2015/Independent Balkan News Agency
By Naser Pajaziti
Besides domestic political crisis, FYR Macedonia is also facing with problems that relate to its neighboring countries. Although several regional documents and agreements for good neighboring relations have been signed, there are still pending issues with neighboring countries.
Its neighboring policies with Greece are in a situation of status quo, due to the name dispute. This has become an obstacle in the process of the accession of the country in the NATO and EU.
With Bulgaria, there are open issues on the language, culture and history, because Sofia denies to the country several national figures, who are considered historical Bulgarian personalities.
Albania has recently intensified its warnings toward Skopje, demanding it to respect the rights of Albanians and specially the implementation of the Ohrid Agreement. Debates were sparked on this issue, after the latest declaration issued by the Albanian PM who linked the integration and accession of the country in the NATO with the Ohrid Agreement.
Recently, there have also been debates with Kosovo following the events in Kumanovo, where an armed group, who was made up of Kosovo nationals, known as veterans of KLA, caused turmoil in the country. As a result of this event, there were aggravations between the two countries, where authorities in Skopje held Pristina responsible for allowing the penetration of this group from Kosovo to FYROM.
There are also pending issues with Serbia, as the Serb Orthodox Church doesn't recognize the autonomy of Macedonian Orthodox Church. The only church that it recognizes is the Autocephalous Church of Ohrid. In spite of this, the governments of both countries have said that they do not interfere in religious issues.
Former Foreign minister of FYROM, Denko Maleski said that the country is one of the countries that came out of the former Yugoslav federation and that the pending issues that exist are historical problems.
"These are inherited problems, but in order to meet our strategic goals, we must adhere in the Euro Atlantic structures. Meanwhile, we must also engage in a constructive way to solve pending issues with the neighboring countries", says Denko Maleski.
According to him, politicians and governments in the country have not solved these problems, but allowed them to accumulate.
Neighboring policies and the progress of the country have been part of a study carried out last month by the Institute for Democracy "Societes Civilis" in Skopje.
To the question how do you assess policies of neighboring countries in relation to the integration of the country in Euro Atlantic structures, majority of Slav-Macedonian respondents have replied that their policies were the main cause that the country has not become part of NATO and EU.
According to the results, over 46% of Slav-Macedonian respondents have expressed such opinion. But Albanians too have shared such opinion or 37% of them have declared that the policies of neighboring countries have blocked the progress of the country.
In the recent years, there have been several incentives for the solution of the main issue, the name dispute with Greece, to give way to the accession in the NATO. But little progress has been made in terms of finding a compromise, in spite of the efforts of the UN intermediary for the name dispute, Mathew Nimetz. /ibna/