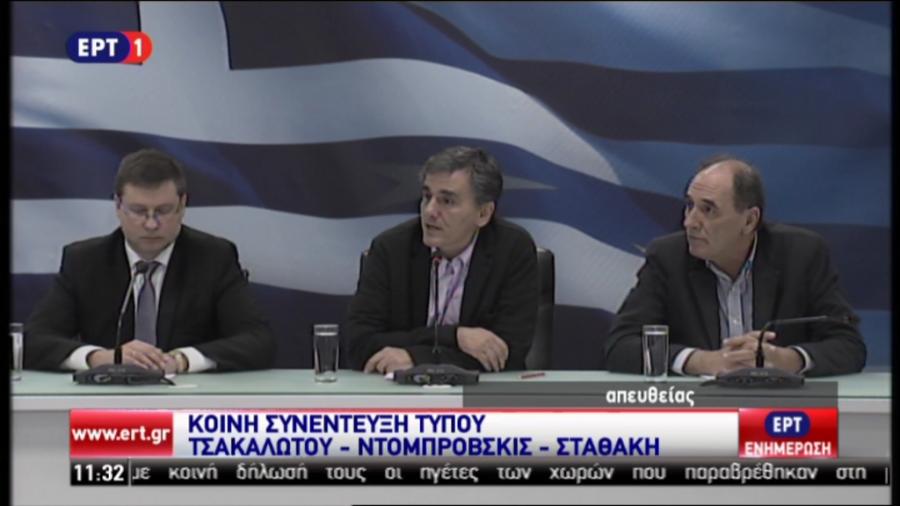 Athens, October 27, 2015/Independent Balkan News Agency
By Spiros Sideris
There is no time to waste and intensive work is required, as it is in everyone's interest for the economy to recover,  Valdis Dombrovskis said on Monday.
In a joint press conference of Vladis Dombovskis, Economy Minister Giorgos Stathakis and Finance Minister Euclid Tsakalotos, the Vice President of the European Commission spoke of the need for immediate implementation of the agreed reform agenda, while the Greek side spoke of an honest compromise on red loans and auctions.
Dombrovskis noted that there is no time to waste and that intensive work is needed, as it is in everyone's interest for the economy to recover.
He also made a reference to theEUR 2 billion additional funding for 2015 and 2016, but also in providing targeted assistance to Greece on a technical level, on issues such as tax evasion, corruption, and the creation of a more friendly climate for new businesses.
Already, the European Parliament has approved the disbursement of EUR 835 million, while EUR 500 mln are to be approved by the end of the year.
Dombrovskis also stressed that "The European Commission stands by Greece", and that "a prudent implementation of the program will create jobs and solve the economic problems".
Stathakis noted for his part that the extensive discussion with V. Dombrovskis was on the management of European funds, the replacement of the 5% national participation of Greece and the doubling of the new NSRF.
Stathakis said that a few days ago the system opened completely and there is now full restoration of the NSRF payment system.
He noted that, among other things, discussion revolved among projects that have been deferred, such as the Thessaloniki Metro and the "Coupling" for which there is an effort to find solutions.
On his part, Tsakalotos referred to the progress that has been made, but also to the problem the two sides are faced with regarding the 'Katseli' law and the protection of the primary residence.
As he said, the two sides expressed the view that an honorable compromise must be reached.