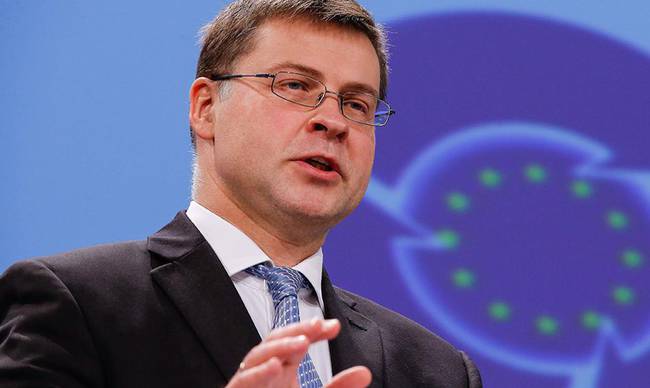 Athens, January 28, 2015/Independent Balkan News Agency
By Spiros Sideris
No connection exists between the Greek debt relief and management of the refugee crisis, as far as the European Commission is concerned, Valdis Dombrovskis clarified.
In this way, the vice president of the European Commission essentially denied the publication of the Financial Times, on the "exchange" of the greek debt with refugees.
At the same time, he blamed Athens for the delay in the evaluation.
"The EU wants to complete the evaluation without delay, but it can not move faster than the Greek authorities", Dombrovskis said.
"Future discussions on the greek debt and the efforts to deal with the refugee problem are two different things", he said.
Tsipras: Stop the blame game for the refugee problem
Alexis Tsipras made a strong retort against the Europeans and the bureaucrats of Brussels, as he called them, following the strict warning received Greece received regarding its eviction from the Schengen zone.
From Israel, following his meeting with the country's Prime Minister Benjamin Netanyahu, Tsipras struck back at to Europeans, calling on them to meet their commitments and stop the blame game.
The blame game must stop. It is not effective. Our contribution to Europe is important, despite the fact that "some bureaucrats in Brussels" who don't understand Greece's stance also fail to understand the international reality which has been repeatedly documented, said the Greek Prime Minister.
Tsipras called on Europe to meet its commitments towards Greece, stressing that the solution must be found in Syria and with the cooperation of Turkey, in consultation for the sharing of the burden.
"We have made commitments, they have proceeded, we will be ready next month. It remains to be seen whether Europe will meet its commitments towards us", said the prime minister, noting that the refugee crisis is not a Greek crisis. "The solution can not be in the symptom, but rather in Syria and to the effective cooperation with Turkey, but also through proper consultation and sharing of the burden".
If the EU can not share the weights it will not have meaningful existence, Tsipras continued, stressing that the images of dead children shame Europe. He also said that Greece, despite being in a very weak state due to the economic crisis, manages to address the refugee crisis, highlighting the humane face of Europe.