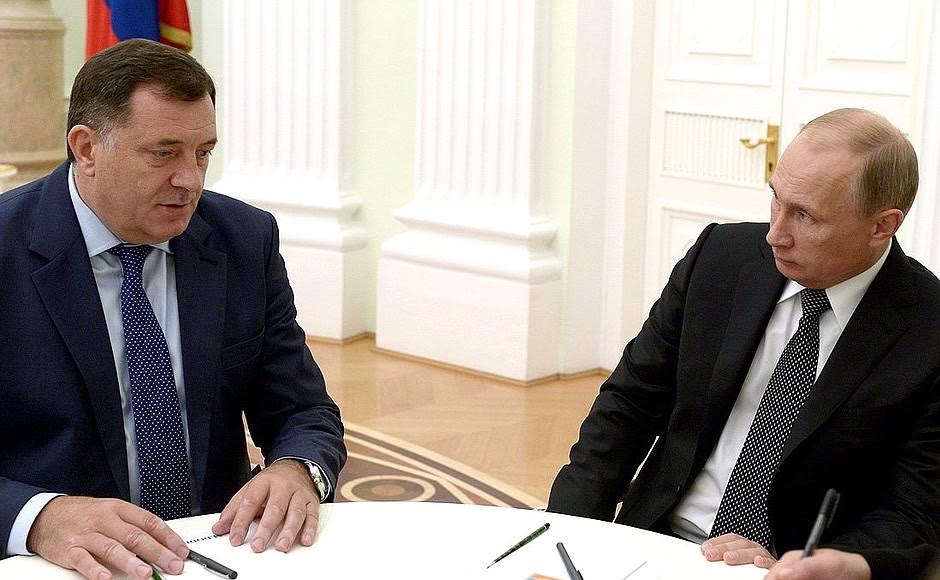 Republika Srpska President Milorad Dodik said in a recent interview for local media that he would meet with Russian President Vladimir Putin on Friday, May 25, at the International Economic Forum in St. Petersburg (SPIEF 2018).
Dodik emphasized that he will inform the Russian Federation president about the fact that the U.S. has a total of 18 million dollars to use as interference in the pre-election process in BiH.
"Americans allocated twelve million dollars to media outlets that suit them in BiH and the U.S. Embassy has six million dollars at its disposal for a programme to prevent the Russian influence from spreading in the Balkans. Probably all will be used against RS", Dodik has said.
He added that Republika Srpska underlined it in its report to the UN Security Council. Until now, as he said, no one denied the information mentioned in the report.
"When the U.S. Embassy was responding to this issue, they started saying that they had allocated hundreds of millions in assorted aid to this area in order to hide this fact", Dodik said.
Regarding amendments to the Election Law, which stipulated the introduction of surveillance cameras, Dodik has said that the American Embassy offered ballot-counting software so that they "would say who is winning here".
"Luckily, this was not adopted and will not be adopted", Dodik has noted.
He has added that these are residues of the old American administration, that he still believes that this has nothing to do with U.S. President Donald Trump and that non-interference is still his policy.
Dodik has said that at the meeting with Putin they will talk about further economic co-operation,  about RS's commitment to a military neutrality and a decision to follow Serbia in that matter. He added that Srpska does not want a military border on the Drina River if someone in BiH would choose this path.
"Putin has never tried to impose anything on us unlike many others", Dodik concluded.
In the numerous U.S. and EU reports about the situation in the Western Balkan region, the frequent meetings between Dodik and Putin are described as clear demonstration of the Russian influence in Republika Srpska and Dodik was named "Putin's man in region".
"If Bosnia were to make significant progress towards NATO, Russia could exert influence in RS to hamper forward progress. The media space is already prepared for that possibility, as RS media outlets rely on anti-NATO and anti-EU content from Sputnik's Belgrade outlet. Russian influence in Banja Luka, the de facto capital of RS, is pervasive—downtown kiosks are filled with t-shirts, coffee mugs, and other memorabilia praising the Russian Federation and Vladimir Putin", the U.S. Senate noted in its report in January this year…. / IBNA