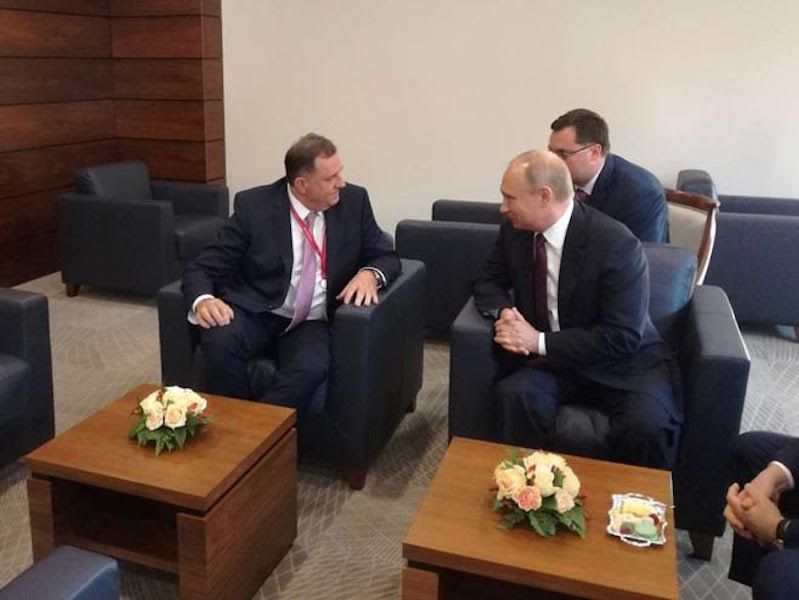 Republika Srpska president, Milorad Dodik said on Friday that, on the margins of the St. Petersburg International Economic Forum (SPIEF), he met the Russian President, Vladimir Putin, to discuss new projects that should begin in the RS with Russian investors. Primarily, as he said, they spoke about the reconstruction of two thermal power plants and the help in the procurement of helicopters for the needs of the Civil Protection of Republika Srpska.
"There is support for all these projects by the president of Russia, and of course there is his understanding of our political situation regarding the constant efforts to expose Republika Srpska to the pressures, with the aim to devalue its rights and capacities", Dodik said in a telephone statement for local media from St. Petersburg.
Dodik added that during meeting he was fascinated by the fact that Putin himself pointed to those challenges, that could be dangerous, and confirmed that he is committed to respect international law and the Dayton Peace Agreement.
"Putin has confirmed his support to Bosnia and Herzegovina and its territorial integrity, but also expressed his support to the sovereign rights that the Republika Srpska and the entities have, and this is a well-known policy of the Russian Federation and its president," Dodik said.
RS president pointed out that they also noted that RS and Russia have a positive development in their political and economic relations, and that he particularly expressed his gratitude to Russia for understanding the implementation of the Dayton Agreement.
"Our meetings have continuity and I am very pleased that the President of Russia, despite the fact that he had many guests, has found the time to talk about the projects that we are implementing on the territory of RS.  About 20 000 persons from the world of business and politics, along with numerous statesmen, are in St. Petersburg," Dodik said.
He estimated that Russia shows that it is not under heavy pressure any more and that it managed to stabilise its economy and record the growth of the economy.
"This suggests that the leading capability of President Putin is impressive and that, in this respect, the Russian Federation can only await better days," Dodik underlined.
As Dodik previously noted, he invited Putin to visit Republika Srpska but there was no concrete agreement about the date…… / IBNA