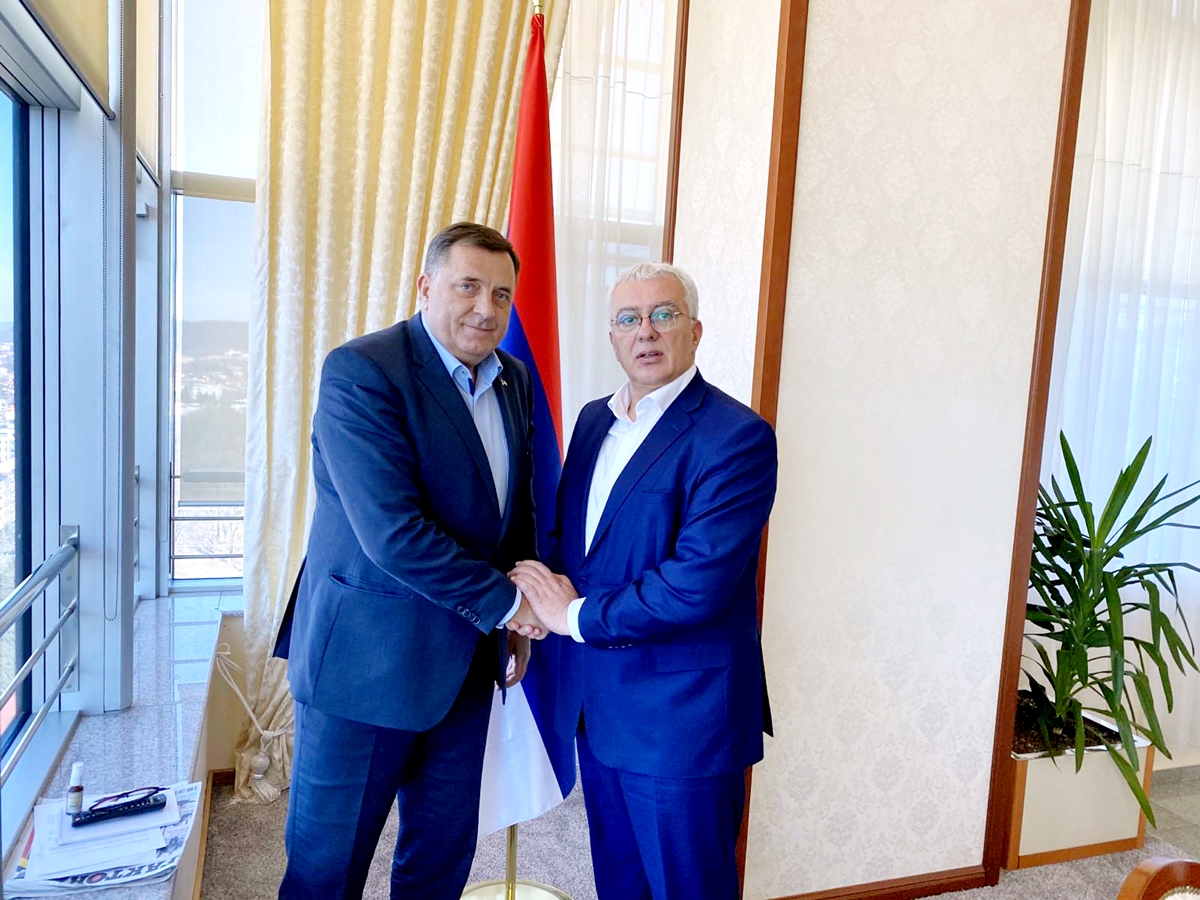 BiH Presidency Member Milorad Dodik and Member of the Presidency of Montenegrin party Democratic Front (DF), Andrija Mandić, discussed in Banja Luka today the current developments in Montenegro, following the adoption of the Freedom of Religion Act, which they called "unconstitutional".
Dodik stressed that he supported the demands of the Serbian Orthodox Church (SPC) in Montenegro, stating that the adoption of the disputed law was an unnecessary step by the Montenegrin authorities.
"The law represents an unacceptable usurpation of SOC rights, as noted by representatives of other religious communities in Montenegro," Dodik said, emphasizing that Republika Srpska and the Serbian people will continue to support the demands of the SOC and believers in Montenegro.
The Serb member of the BiH Presidency concluded that it was unacceptable to usurp in any way the acquired rights of the SOC, wherever it was.
"Therefore, we must be united and together stand against the violation of the rights of the Serbian people and the SOC, not only in Montenegro, but anywhere, and most importantly, to resolve all these problems peacefully and through dialogue", Dodik said.
Mandić thanked the Serb member of the BiH Presidency for not agreeing with the other two members of the BiH Presidency regarding the visit of Montenegrin President Milo Đukanović to Sarajevo and, in this way, denying him of the opportunity to continue his campaign against the Serbian people and the SOC.
"In these actions in Montenegro, our people have shown the strength of Serbian solidarity, so that we stand together as one from Chicago to Australia", Mandić emphasized.
He also expressed great gratitude to Dodik for the fact that he stood up for the SPC and the Serbian people, as he regularly does when it comes to Serbs wherever they are.
"We are proud of the fact that you are one of the leaders of the Serbian people who confirms this with his actions on a daily basis", Mandić said./ibna